Among a series of high-profile Philippines events, Catch Fire marked the anniversary celebration of the Christ the King religious group, gathering an estimated 6,000 followers at the Philippine Sports Arena in Pasig City. Provided by local touring company Contech Sounds with the assistance of Audio by Design, this used a 16-box dBTechnologies DVA T4 system, flown eight elements per side to cover the large arena.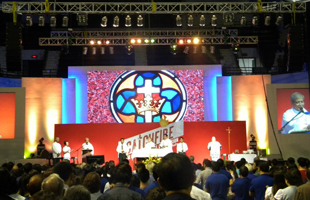 Eight DVA T4 were also used by Audio by Design at a recent free concert in the Quezon City Memorial Circle to raise funds for Typhoon Sendong victims, with four units groundstacked on either side used as stage fillers. The gig was called Cause I'm Sendong All My Love For You, and featured popular bands and soloists including Color it Red, Sitti, Lou Bonnevie and Karylle.
The benefit concert was organised by key figures from the local advertising and marketing community known locally as ASAP, with the cooperation of the TGEEP (Technical Group for Events & Entertainment Philippines) and was supported by the the Quezon City Government, which provided the venue free of charge. Open to everybody, it attracted a thousand strong audience and proceeds continue to went straight to Philippine Red Cross and the Emmanuel Pelaez Foundation.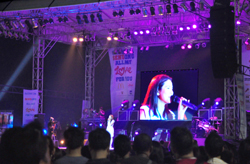 dBTechnologies Far East Area Sales Manager Martin Capp says: 'One of the advantages of the DVA T4 line array system is its flexibility – you can use it as a ground stack as well as flown. More and more rental companies in the region are coming to realise that you can rely on dBTechnologies – and, since the introduction of the DVA T12 line array module, they have excellent scalability and more power at their disposal too. Both systems' driver sections are in-line to avoid phasing problems when used together, and externally they have same footprint, so the flyware is also interchangeable.'
Based in Quezon City, Philippines distributor Avesco is the Italian loudspeaker manufacturer's local representative. The company a has built up a reputation for offering outstanding customer and technical service over 55 years in business.
More: www.dbtechnologies.com