Work on Amy MacDonald's latest album paused briefly for the arrival of an Audient ASP008 mic preamp at Joe Fields' Breakthru Productions recording studio.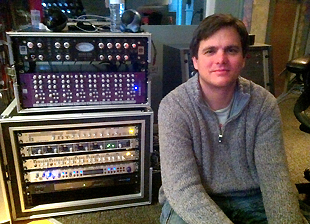 The British-designed eight-channel preamplifier joined an Audient Sumo summing amplifier in the engineer's set-up: 'What struck me when first hearing the Audient ASP008 was the clarity of the signal and definition between the sounds,' he says. 'We used it on drums, vocals, pianos and a strings section, and it complimented each instrument very well, adding a smooth richness to the recordings.'
Fields also provided additional production services on Amy MacDonald's double platinum album This is the Life and was the mix engineer on Asian Dub Foundation's most recent album Punkara. His credits also include Paul McCartney, Iggy Pop, Yusuf Islam, Akon, Ben Harper, Dido and Placebo.
The ASP008 was purchased from professional audio installation company, Kazbar Systems, and is a compact, 1U-high rackmount unit, featuring eight of Audient's class-A mic-preamps with the option of the addition of eight channels of A/D conversion.
More: www.breakthruproductions.co.uk
More: www.kazbarsystemsinc.com
More: www.audient.com