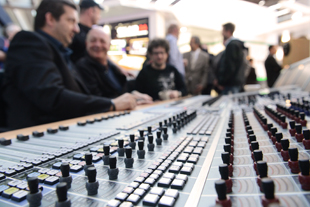 Closing its doors on 13 February, after four typically frenetic four days, Musikmesse and Pro Light & Sound posted a total of around 110,000 visitors from 120 countries.
Consistent in both visitors and territory with 2011's show – which claimed 109,002 visitors from 124 countries – 2012's figures also show 2,388 exhibitors from 55 countries, as against 2011's 2,380 exhibitors from 54 countries.
'Musikmesse and Pro Light & Sound 2012 have further strengthened their position as the world's leading trade fairs in live music and live entertainment industries', said Detlef Braun, Member of the Executive Board Messe Frankfurt GmbH. 'Both, visitors and exhibitors, highly appreciated and assessed Musikmesse and Pro Light & Sound, and are in best mood for orders and business.'
The official attendance figures show more than 41,000 overseas visitors, ranking the Netherlands, France, Italy, Great Britain, Switzerland, Austria, Belgium, Sweden, Poland and Russia as highest ranking.
Pro Light & Sound is next set to run from 10-14 April, 2013.
More: www.messefrankfurt.com