The recent installation of a 36-channel Audient ASP8024 analogue mixing desk at Poland's Studio MAQ, has given new angles on its sound and recording.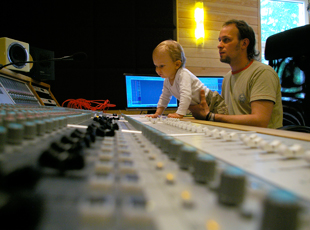 Designed and built from the ground up as a recording facility, Studio MAQ (Music Audio Quality) comprises six live rooms with varied acoustics and two mixing rooms. 'We have a wide range of engineers in the studio, each of whom works in a different way to produce many different genres of music,' explains studio owner Mariusz Ledwoch. 'This meant the neutral sound of the Audient was a huge advantage for us. It's also functional and easy to use; every engineer who sits behind it gets the hang of it quickly, allowing him to get on with the business of recording and mixing.'
It's the sound in particular that impresses Ledwoch: 'It's hard to imagine a better sounding preamp in this price range,' he says. 'We have found the desk gives superb results when used in our exceptionally acoustic live rooms. The sound is clean and clear, and when used with extra outboard it gives really good sonic satisfaction.'
The ASP8024 has been busy since commissioning, recording a diverse series of artists from accordion ensemble Motion Trio (Winner of the Gus Viseur, new discoveries category; Deutsche Schallplatten Kritik 2004), Polish prog rock group Osada Vida, to Ken Vandermark Resonanse (Best Jazz box 2009 - All About Jazz New York) passing through the studio's doors.
'Thanks to the ASP8024, we can have limitless mixing and summing analogue capabilities which when used with good EQ can give wonderful results,' Ledwoch adds. 'Although the EQ and the sound of the desk is neutral, we consider this to be a great benefit.'
On reflection, is there anything that he would change?
'Perhaps we rushed into the purchase of the desk, because now we'd choose one with DAW…'
More: www.maqrecords.pl
More: www.audient.com