Independent UK OB services company Telegenic has included a SoundField digital microphone and upmix processor in the facilities of a new 3D OB vehicle. Already in service, the truck has been delivering live 3D coverage of a variety of sporting events for European satellite broadcaster BSkyB.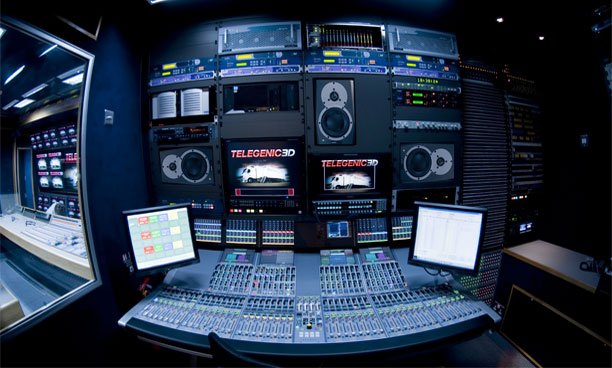 One of the pioneers of high-definition broadcasting in Europe, Sky has been sourcing HD visuals with 5.1 surround sound since early 2006and is now offering regular broadcasts in 3D, including coverage of the recent World Cup. A number of outside broadcast trucks have been commissioned from Sky's regular OB service partners in the UK to meet this need, and several have been in service since mid-Spring. One is Telegenic's new 3D OB vehicle, which has been in use on transmissions for Sky since April, offering visuals in 3D and sound in full 5.1.
As with all OB units for Sky broadcasts, the main surround microphone in the Telegenic 3D truck is SoundField's digital DSF-2, together with the UK mic company's digital 5.1 surround processor, the DSF-3. This combination produces a completely phase-coherent, all-digital 5.1 soundscape, which can be downmixed for stereo transmissions to older receivers without creating phase problems. 'It made perfect sense to Sky, and to us, to use the DSF-2 and DSF-3 to generate the 5.1 sound in the new 3D truck, as that combination has been working so well in our HD trucks,' says Telegenic Head of Sound, Dave Rowley. 'Since the truck entered service, we've been using the SoundFields mainly for 3D coverage of live football and Rugby Union. Shortly, though, we'll be starting on the cricket and Rugby League, and also darts.'
Also onboard the new truck are two SoundField UPM-1 upmix processors, which are capable of producing downmix-compatible, phase-coherent surround from a two-channel stereo. 'These are relatively new,' says Rowley. 'We bought them for situations where our truck is acting as the master broadcast hub for an evening's sport, where we might have to accept transmissions from another broadcaster and relay them back to Sky's transmission centre. When we're accepting broadcasts in this way from other parts of Europe – our coverage of the Heineken Rugby Cup is a good example of this – quite often the audio is still coming to us in stereo, and of course we don't really want to be outputting part of an evening's programming in stereo now if we can avoid it, especially now that the visuals are in 3D. The UPM-1 allows us to create a natural-sounding 5.1 from this kind of stereo input. Since the truck entered service, we've also been using the UPM-1s on VT output – archive material which only ever had audio in stereo – with great success.'
The only limiting factor for Telegenic over the Summer has been that they have only had the one 3D truck; however, a second 3D unit, which will share the workload, is currently undergoing integration at Sony's Basingstoke headquarters. It too will feature the SoundField DSF-2/DSF-3 combination, together with a pair of UPM-1 upmixers.