Delivered directly to Doha for the opening and closing ceremonies of the Pan Arab Games, L-Acoustics Rental Network Agent and Certified Provider Norwest Productions has added 74 Kudo cabinets and 16 LA-Rak amplified controllers to its existing inventory.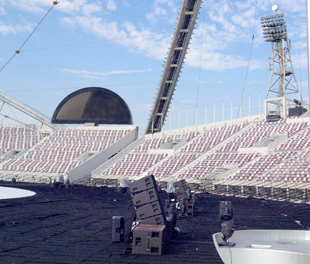 Norwest, which already had 118 Kudo boxes in its stock, now holds the largest Kudo stock in the world and has vast experience of using Kudo on major sporting events, including the Delhi and Melbourne Commonwealth Games opening and closing ceremonies, Doha Asian Games opening and closing ceremonies, Singapore National Day events, Sydney World Youth Day and Singapore Youth Olympic opening and closing ceremonies.
'Norwest was an early adopter of L-Acoustics Kudo, purchasing the initial order in 2006 for the Melbourne Commonwealth Games, Asian Games and many other events since,' says Norwest Group Sales Director, Chris Kennedy. 'Due to the strong demand, we have elected to purchase another 74 cabinets with LA-Raks, taking our total Kudo inventory to 180. Our local demand for Kudo is such that we can no longer afford to send large quantities away for several months for a big event such as Arab Games – so more were needed.'
The Pan Arab Games sound designer – Auditoria's Scott Willsallen – extensively specifies Kudo for his projects due to its adjustable horizontal cue, which provides even coverage over a large space.
More: www.norwestproductions.com
More: www.l-Acoustics.com