With the new F1 season now running, wireless audio specialists Raycom are at the head of the field with a major deal to supply Wisycom radio microphone systems to Gearhouse Broadcast for their Sky Sports support of the new F1 HDTV channel.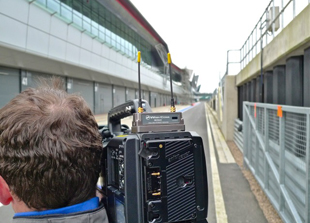 The all-new approach being taken by Sky Sports F1 HD has all audio being delivered wireless from pit-lane remotes to studio interviews. To achieve this, Raycom specified a range of Wisycom radio equipment – including the new intermod-free transmitters – in belt-pack and hand-held form. These offer the widest frequency tuning range (232MHz) in the world, for global use.
For receiving, a selection of rack-mount MRK960 dual receivers and camera-mount MCR42 dual-diversity receivers have been specified with up to 370MHz available RF bandwidth.
'Raycom provide some of the best wireless microphone systems available today,' says Gearhouse Broadcast Group Operating Officer, Kevin Moorhouse. 'The products are well designed and they fulfil the requirements we have for this prestigious project for Sky.'
'The full range of F1 races present a real challenge to broadcasters and we were delighted to assist Sky Sports F1 HD, Gearhouse Broadcast and F1 in their search for the right solution with Wisycom wireless audio,' adds Raycom's Pyers Easton.
More: www.gearhousebroadcast.com
More: www.raycom.co.uk
More: www.wisycom.com