Located high on the 22nd floor of the Menara Citicon office building, Jakarta has a new 500-capacity multi-purpose venue in the shape of the Menara Citicon Auditorium.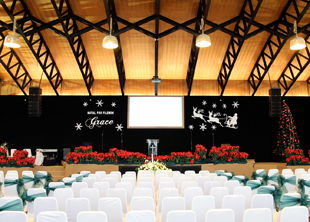 Intended for uses ranging from live performances, theatre and performing arts events to weddings and worship gatherings, venue has been equipped with an L-Acoustics Kiva/Kilo WST line source system by Indonesian agent, Tri Tunggal Abadi.
The LR system comprises four Kiva ultra compact cabinets and two Kilo low-frequency extensions per side, with four SB18i subwoofers, and two 108P self-powered coaxials for front fill and 112P self-powered coaxial monitors. The entire system is driven by three LA4 amplified controllers.
'The client wanted an unobtrusive system which would deliver high-quality sound, and would match the interior of the hall,' says Tri Tunggal Abadi's Andre Bonang.
'They had seen the Kiva system in the Nafiri Convention Hall and liked both the sound quality and the look of the system. After we made a simulation on L-Acoustics' acoustic modelling software, SoundVision, they agreed this was the right system for the venue.
'The sound team at Menara are all very happy with the sound quality and coverage of the system.'
More: www.tri-tunggal-abadi.com
More: www.l-acoustics.com