Midi & Graphics has been appointed by XTA Electronics as its exclusive distributor for South Korea.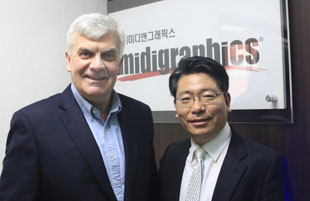 Established 13 years ago to serve the emerging DAW market, Midi & Graphics has since taken on more mainstream pro audio brands, including HK Audio, Powersoft, Apogee and Yamaha.
Located in the Nonhyeon-dong ward of Seoul's Gangnam-gu ward, it now employs 22 people – including some of Korea's best known sound reinforcement engineers – and comprises three divisions dealing with PA, rentals and installations; the house of worship; and broadcast. The company's client base includes a network of 24 dealers and contractors. In the broadcast market, they work exclusively with two accredited dealers.
New products are introduced to the South Korean market each year through a Dealer/Partner Day, held two weeks after Pro Light & Sound show. Locally, Midi & Graphics keeps a regular presence at Koba and KoSound. Another key success is the Training Manual, which provides a step-by-step guide to all aspects of pro audio. In Korea, this is seen as the 'No.1 go-to resource' for industry novices and veterans. The company's website has around 20,000 registered users and is updated on a regular basis.
Under the direction of CEO Sunmo Kang, Technical Manager Noil Song now provide detailed knowledge of the XTA Electronics line, having spent time working in the UK in various sound reinforcement positions. General Manager Changyu Choi is also familiar with XTA, having spent many years working for various South Korean rental companies.
'I am very excited by the prospect of working with Mr Kang and his team for the coming years,' says XTA Sales & Marketing Director, Bill Woods. 'Their understanding of the needs of their customers and their commitment to training and education have really impressed me. They have a fabulous sales and marketing team as well as real technical expertise. XTA is a perfect fit with their existing brands and I am certain they will be very successful.'
More: www.midigraphics.co.kr
More: www.mc2-audio.co.uk