Helping the people of Medellín get around, the Metro de Medellín cable car system carries more than 400,000 riders each day over 20 miles of lines. The two light rail and three aerial tramways (cable cars) have a total of 34 stations, while the new Metro Plus system of bus lines features dedicated roadways and will add 21 elevated stations.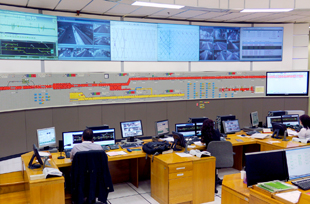 The Metro uses an equally expansive paging set-up – presently, it is the world's largest integrated NetMax networked matrix system and looks set to grow.
Serving a population of more than 3m people (Colombia's second-largest metropolitan area), the paging and platform music serving the system's stations is handled by 57 Electro-Voice N8000 matrix controllers. This supports more than 250 Electro-Voice Evid series ceiling loudspeakers powered by more that 150 channels of E-V power amps. The paging system ialso uses 163 Telex WP-300S dynamic wall plate microphones.
Designed by Medellín's own Almacenes La Cita in conjunction with Ambientes Inteligentes, the system was installed by Indra Sistemas of Madrid, Spain. 'We were looking for a solution that allowed all audio to be transported via IP and that would provide programmable DSP capabilities at each station so that we could make adjustments to tailor the system for each different situation,' says Gonzalo Lizarralde, Technical Solutions Manager for Metro de Medellín. 'NetMax gave us exactly what we needed.'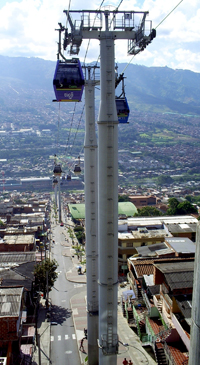 The system handles announcements generated locally by station personnel as well as announcements from a central control point, which can address the entire system, an individual line, or a single station. 'The paging control platform for the subway is very well-structured and functional,' says Electro-Voice Regional Sales Manager, Juan Montoya. 'It's easy-to-operate system for all of the line and station operators, who must keep their focus on functions other than the audio system.'
In addition to paging, the system distributes Metro Music programming that is put together by Metro de Medellín personnel. A priority scheme allows centrally generated announcements to override local announcements, which in turn override each station's ambient music. The system is programmed to automatically boost sound output by up to 6dB during heavy traffic hours to keep paging and music levels appropriate given increased ambient noise.
Music and those announcements originated at central control are distributed via CobraNet and decoded locally by a CM-1 interface card in each N8000 300 MIPS digital matrix controller. Each N8000 is also equipped with an AO-1 eight-channel analogue output card as well as one or more MI-1 8-channel analog mic/line input cards.
For in-station sound reproduction, the system uses 194 Evid C4.2 4-inch two-way coaxial ceiling loudspeakers and 58 Evid C8.2HC 8-inch pattern-control two-way coaxial ceiling loudspeakers. The loudspeakers are powered by 34 Electro-Voice PA4150L quad amplifiers that deliver 160W/channel, as well as two CPS 8.5 eight-channel amplifiers and one CPS 4.5 four-channel amplifier. Each CPS amplifier provides 500W/channel and is equipped with an RCM-810 IRIS-Net remote control module.
The NetMax system is controlled by operators at the central control point via a user interface that allows visualisation of the system as a whole and easy selection of the lines, stations, or other locations.
'A big bonus is how easy the user interface makes it to program and use the system,' Lizarralde says. 'We're also very happy with the scalability of the NetMax solution, because the Metro is an ongoing project that will continue to expand. Not only are we very pleased with the overall operation of the E-V system, if we analyse it from a cost and benefits angle, we're even more satisfied.'
More: www.electrovoice.com