A sellout spring tour of Scandinavia finds Midas Pro2 consoles at FOH and monitors for Swedish rock band Takida.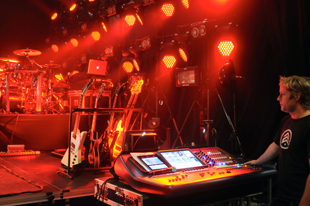 Touring The Burning Heart, monitor engineer Robert Egnelius reports: 'The band themselves have commented that both the monitor and FOH sound is excellent with the Midas Pro2s.
'Overall the system is very stable, and I really feel I can fully trust it. The POPulation and MCA groups are two excellent features I use a lot, they make accessing channels very quick and effective.
'As well as being easy to use, the Pro2 sounds very good and has wonderful EQ and dynamics. I like the patching, and the fact that I have control over what to patch to the outputs. The assignable XLRs on the network effectively give me 16 XLR outputs on the control surface and another 16 on the stagebox.'
Leading Scandinavian hire company Starlight, which purchased the Pro2s from Midas' Swedish distributor Intersonic, is the first company in the region to use a dual system on a tour.
Takida are touring in support of their fourth studio album The Burning Heart, which topped the Swedish charts on release. The tour runs until the end of April.
More: www.midasconsoles.com