Set above the bay of Jounieh, Bkerké (بكركي) is the present See of the Maronite Catholic Patriarchate in Lebanon.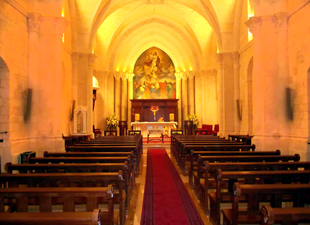 Arriving at its present site in 1830, the building's the architecture is both grand and acoustically challenging – as local pro audio specialist Technosound discovered when called in to provide a new sound system.
The church commissioned the Lebanon-based company to provide a system that would give the highest quality audio with the minimum aesthetic intrusion, for both the interior of the main church and also for selected areas outside the building.
'For the main area inside the church we chose Community's Entasys three-way, full-range column line-array loudspeaker systems,' says Pierre Fahed of Technosound. 'Their wide horizontal and very narrow vertical dispersion gives excellent coverage with minimal overspill to the reflective surfaces of the room. The Entasys also provides the highest intelligibility from a very slim column, which merges well aesthetically. To minimise intrusion we painted the units locally, to match the building's stone interior.'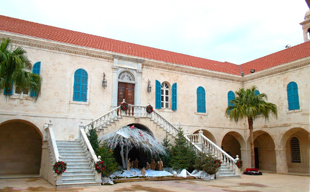 For the the front entrance and the courtyard, Technosound used Community R.25-94TZ two-way, full-range, all-weather systems, with a 90° x 40° coverage pattern. 'For sound quality combined with long-term outdoor reliability, Community's R-Series are unequalled,' says Fahed. 'Their compact size and discreet colouring were again a big advantage in minimising visual impact.'
To maintain the quality of the system, Technosound supplied a range of AKG microphones, including two AKG WMS450-P wireless, four AKG CGN521E goosenecks, four AKG C5 condensers and one AKG D5S vocal mic.
These are mixed via an Allen & Heath Zed22FX with an ART MX225 distribution mixer for zone control.
Processing is handled by a dbx DriveRack PA+ and the loudspeakers are driven by QSC PLX3602 amplifiers. Two QSC K10 active loudspeakers provide foldback for the choir and the system is complete for recording and playback with a TEAC CDP650 CD Player and a TEAC CDRW890 CD Recorder.
'Community really did have the ideal solutions for this installation, inside and out,' Fahed reports. 'It is visually discreet with excellent sound quality, ideal coverage patterns and assured reliability. Most importantly, the Church is very impressed and completely satisfied with the new system.'
More: www.techno-sound.org
More: www.communitypro.com
More: www.allen-heath.com