Saville Audio Visual has taken two Roland VR-5 AV Mixer/Recorders for its webcasting operations, supplied by Visual Impact Northern.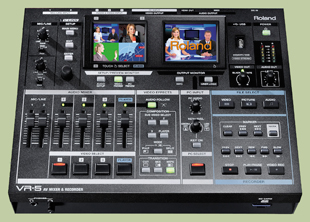 The UK's largest specialist supplier of audio visual, multimedia and videoconferencing technology, the company is using one unit for webcasting and the other for one of its that needed a compact unit for live action camera relay work at smaller conferences.
Saville Audio Visual is primarily using the VR-5 to feed a Mediasite webcasting platform from Sonic Foundry, but the USB outut to PC is also in frequent use for applications such as recording PowerPoint presentations, slide shows and movie playback directly to the VR-5.
'For our purposes, the VR-5 has just the right number of inputs – the being used for cameras – but we can also bring in the PC input and put that into a video feed,' says Saville's Gareth Lloyd. 'This is great because we work with a lot of PowerPoint so we can capture the PowerPoint separately from the webcasting platform. Usually the PowerPoint presentations have video in them, so now we can bring the video through the mixer.'
The VR-5 simplifies production, acting as a video switcher and audio mixer, and providing video playback and recording, preview monitoring and output for web streaming. As a USB video/audio class device, web streaming is achieved with a computer running a live streaming service such as Ustream, as well as any video call service such as Skype and iChat.
'The compact size and the fact that you don't need any extra hardware is also attractive making it easily portable – ideal when Saville are undertaking a lot of international work which requires getting on a plane,' Lloyd says. The two outputs are also just right as we don't need any extra distribution amplifiers.
'With the audio input, we have no need for a separate mixer to get the audio and send it to the recorders and we have enough bass and treble within the mixer to sort out the feed from the in house audio. The built in touchscreens are great because no external monitors are needed'
The built-in recorder can record the final output of the VR-5 to SD memory card and the VR-5 can also playback video, still images and audio files from an SD card. The record to SD memory has also been useful to Saville. The webcast video mixed via the VR-5 is usually highly compressed video, which doesn't lend itself to all applications, so the ability to simultaneously record in high bit rate MPEG-4 format on the SD card enables easy re-purposing of the recorded video.
In fact, the SD card proved its value when a presenter could not get a video in her presentation to work from her laptop: 'We were able to save the day by recording to the SD card and playing the video from the vision mixer right on cue,' Lloyd reports.
More: www.saville.co.uk
More: www.rolandsystemsgroup.co.uk