Made over as the Temple Performing Arts Center, Philadelphia's Baptist Temple is now the principal performance venue for the city's Temple University.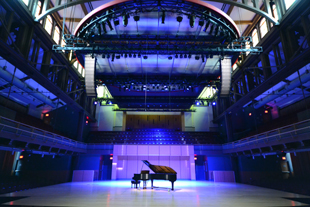 The US$30m theatre overhaul included an installation of a Meyer Sound M'elodie line array loudspeaker system to support a busy calendar of university-sponsored events and bookings from the area's concert promoters.
'The hall looks spectacular and has excellent acoustics,' says Associate Technical Director and head sound engineer, Peter Schall. 'We couldn't have a huge array, but we still needed something that could deliver a rock show or contemporary gospel – which can be louder than rock – as well as classical and acoustic music. M'elodie fit the bill perfectly.'
Built in 1891, the facility's Lew Klein Hall the Meyer Sound has 1,200 seats served by twin hangs of 12 M'elodie line array loudspeakers on each side, six 500-HP subwoofers and Galileo 616 loudspeaker management. Clear Sound of nearby Yeadon provided the system and a Yamaha PM5D-RH digital console as part of the upgrade, with design by company president, Chris Dietze. The system was tuned using a SIM 3 audio analyser.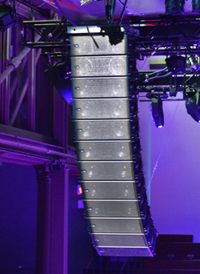 'When we looked at this project, size and weight were obviously important because of aesthetics and weight restrictions on the grid,' Dietze says. 'But other considerations pointing toward M'elodie were sound quality, box-to-box consistency, and rider-friendliness.'
The hall's first use saw British rock legend Ray Davies playing music from The Kinks Choral Collection. 'This show had everything, starting with softer acoustic numbers, then a full rock band and finally adding the 48-voice chorus,' Schall says. 'The system absolutely delivered, and by the end of the show, Davies's FOH engineer was just beaming, happy as a clam.'
Initially, Schall narrowed the venue's system choice to M'elodie and one other noted manufacturer: 'What tipped us toward Meyer Sound was the people,' he says. 'The support we received from everybody on the team was awesome. They made sure everything was done right, every step of the way.'
The imposing structure now housing Temple Performing Arts Center was built as Grace Baptist Church, founded by Russell H. Conwell, who also started the night classes that eventually grew into Temple University. Vacated by the congregation in 1974, the building was purchased by the university and then stood vacant for 30 years. Following its designation as a historical building, the university hired international architectural firm RMJM to devise a full-scale renovation.
More: www.meyersound.com