Trent Reznor has installed a Solid State Logic Duality SE console in his private studio.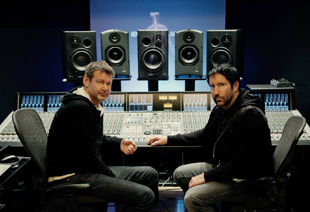 Reznor's choice was based on advice from producer/engineer Alan Moulder, delivered while they were mixing the soundtrack for the film The Girl with the Dragon Tattoo – using a Duality to mix tracks that Reznor had composed with Atticus Ross, as well as the soundtrack's two cover songs – Led Zeppelin's 'Immigrant Song' and Bryan Ferry's 'Is Your Love Strong Enough?' by Reznor and Ross' side-project How to Destroy Angels.
The Girl with the Dragon Tattoo is the second soundtrack that Reznor and Ross have worked on together, along with The Social Network.
'We began the mix for The Girl with the Dragon Tattoo on an SSL AWS 900, the console we used to mix our music for The Social Network,' says Reznor. 'As we started the mix process, I was feeling that I wanted to move to a large-format console. While the AWS 900 is a spectacular analogue console – and it made a massive difference to our sound when we switched from using a dedicated Icon controller – the channel count became limiting for the Dragon project. I discussed it with Alan, who has been my friend and engineering wizard since recording Nine Inch Nails' The Downward Spiral in 1994, and we decided to take a chance on Duality mid-way through the project. The installation went smoothly and the console worked flawlessly from start to finish.'
'Duality is like an AWS on steroids,' adds Moulder. 'It has a similar layout, so it was great to take the studio to the next level and not have to re-learn a whole new console. I really love working with the EQs – the ones we all know and love – and having dynamics available on each channel is great. I really like how easy it is to do recalls. We would work on a track, park it and go on
to another one if we felt we were getting bogged down creatively. Because you can use two or three people to do a recall on Duality, the reset process was really quick. Duality is perfect for the way we like to work and the sound quality is really impressive.'
Reznor is no stranger to SSL – the original Nothing Studios in New Orleans, which he opened in 1994, featured a 4000 G+ console. This is where he recorded The Downward Spiral and The Fragile. When he moved to LA in 2005, he built a home-based studio around a DAW and controller, later replacing the controller with an AWS and then the Duality.
'Right now, we are completing mixes for the new How To Destroy Angels album on Duality,' explains Reznor. 'We're in a world where technology is our friend and all the keyboards, instruments, outboard gear, plug-ins and the like are just toys to be employed and deployed as best you can. But having what the Duality has provided for us in a very elegant way has certainly embellished and eased the creative process. I am looking to build a dedicated studio facility in the near future and Duality will be the centerpiece for that facility.'
More: www.solidstatelogic.com