When the Royal Shakespeare Company needed an additional mixer for its touring shows and West End transfers, it didn't have to look further than its own Swan Theatre for guidance.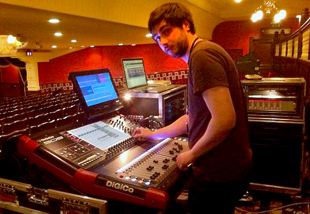 Part of its 2011 refurbishment, the Stratford upon Avon theatre's use of a DiGiCo SD7 has proved so successful that another SD series console was the first choice – this time, an SD9.
'We have a long relationship with DiGiCo and needed a console to transfer shows that currently exist on an SD7, but would be playing in smaller venues,' says Jeremy Dunn, Head of Sound at the Royal Shakespeare Theatre in Stratford. 'We looked at all the usual comparable desks, but the audio team were very keen to stick with DiGiCo software and its way of working.'
The smaller footprint and ease of transferring shows programmed on the SD7 were important, but Dunn is also impressed with many of its other facilities: 'The Madi I/O means we can connect a laptop directly to the SD9 via an RME Madi card to run all our sound effects using one cable,' he says. 'The I/O at the back of the desk is great for the limited amount of radio mics we use and the remote rack will sit between the band and the amp racks – perfect.'
The SD9's first use was be on a tour of The Taming of the Shrew, to be followed by productions of Julius Caesar and Much Ado About Nothing at London's Noel Coward Theatre in the summer, as well as working alongside an SD7 (supplied by Autograph) at the RSC's 2012 Roundhouse Season.
'The amazing thing about the SD9 is that it has great facilities and you can transfer shows designed on the SD7, but it's much more compact in terms of both the size and price,' Dunn says.
More: www.digico.org