Ascribed to the Music Group's streamlined distribution system and US$20m investment in manufacturing, Midas has revised the pricing of its Pro3, Pro6 and Pro9 live audio systems.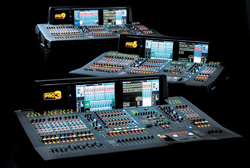 'We are on a relentless quest to remove unnecessary cost from our products wherever possible,' says Music Group VP of Global Sales, Paul Wright. 'Our goal is to provide products at the cutting-edge of technology at a price point that our customers find extremely attractive. This aim is achieved without ever compromising on audio or operational performance - these remain firmly at the core of the Midas brand.
'The Pro2 is a perfect example of this philosophy and we have applied the lessons learnt from this project to the rest of the Pro Series.'
The price restructuring is the first step in an strategy planned for 2012, which is expected to include new product developments for Midas and sister brand Klark Teknik.
The manufacturing investment supporting this development includes the use of surface mount technology, x-ray and optical inspection systems and 'the increased purchasing efficiencies resulting from the tremendous success of the Pro2 console'.
See also:
Midas Pro9 and Pro3
More: www.midasconsoles.com