Pieter Apers calls it 'the Holy Grail in recording'. 'When I was choosing a console for my studio, I considered a number of alternatives,' he says. 'To be fair, some others offer deeper DAW integration and more bells and whistles. However, when it comes to sound and sheer build quality there is no doubt – the API 1608 stands high above the others.'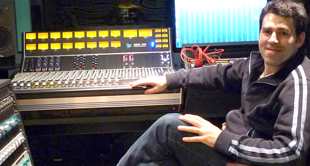 Apers purchased the fully-analogue 16-channel API 1608 console for his Studio La Buanderie in Brussels through API dealer Amptec, who is credited with quickly bringing multiple 1608 consoles into Belgium.
'I have always been an audio enthusiast, so I have known about API for a very long time,' he says.
Apers founded Studio La Buanderie eight years ago to fulfill a longtime dream of having a comfortable space to work on his music in his home. After discovering a passion for recording live instruments, he decided to upgrade his small digital system to a full-fledged Pro Tools rig, later adding analogue outboard gear and now, the API 1608.
'I am part of the newer generation of engineers who never worked with big boards and tape. However, although I bought the 1608 only recently, I really have had an "'aha!" experience with it,' he said. 'I thought – so that's why everybody likes a console. 'Run a mix through it with the faders flat and it's already an eye-opener. Just look at the chassis and hefty external power supply and you know this console will do its duty for many years to come.'
Apers records mostly jazz and acoustic music but also works within the pop-electro genre. Since opening Studio La Buanderie, he has worked with a number of Belgian artists such as Tom Van Dyck, Tutu Puoane, Ewout Pierreux, Anja Kowalski, and Nox.
More: www.labuanderie.be
More: www.apiaudio.com