Having completed a second tour since reforming in 2009, German rockers Guano Apes were able to review FOH engineer Ingo Thürauf's choice of a Coda Audio AirLine loudspeaker system…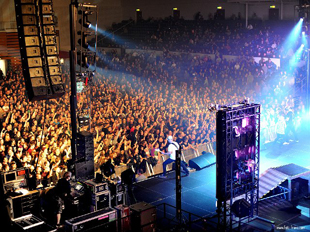 Supplied by Ambion, who provided full technical requirements for the tour, the system comprised an AirLine LA12 three-way line array and high-output sensor controlled SCP 2x 18-inch and SC8 4x 18-inch subwoofers, with AirLine LA8 two-way compact line array cabinets as front/side fill.
'Coda line array systems offer exact reproduction, which made me specify the AirLine LA12 system for this tour,' says Thürauf, who had previously worked with both Ambion and Coda systems. 'The sensor controlled subwoofers in particular perfectly match the energetic sound of the Guano Apes. I like to work with diverse subharmonic effects, and the speakers need to be able to handle these.'
Ambion has come to rely on Coda Audio for both its corporate and convention support, as well as in concert touring, on an international level: 'Coda Audio was introduced to us two years ago,' recalls Ambion's Jesko Purmann. 'We were looking for a new sound system at the time and didn't want to pick one of the usual ones. We quickly realised that the ideas and concepts of Coda Audio and Ambion matched very well and, as a result, we have had products from Coda in use for over a year-and-a-half now.
'We started with Cue One monitors and were able to work closely with Coda's R&D team to produce an outstanding monitor system. After testing the Cue One on Element of Crime's 2010 tour, we started testing the AirLine LA8 system and later the AirLine LA12. We were convinced by the quality of these systems and that resulted in our decision to invest in both systems, including accessories. I have never heard another system with such an accurate and precise bass.'
'It should be highlighted that the SC8 got two 18-inch woofer in the front and two in the back,' Norbert Sangermann of Audiovation, Coda' German distributor, adds. 'The group alignment is reduced and the precision optimised.'
'The SC8 can be flown in one line with the AirLine LA12,' continues Purmann. 'We used this in projects where a homogenous covering for a large depth was needed. It is also possible to fly separate bass lines. For close-field fill, we used AirLine LA8 units on the stage edge instead of hanging them under the main arrays. This assured us the most effective sound distribution.
'We have used the AirLine LA8 system on more than 100 music and events during the past 12 months and got a chance to try the AirLine LA12 system in many single events as well, but Bel Air is the first full tour for the AirLine LA12. Not only the outstanding sound performance, but the physical parameters need to be highlighted – the AirLine LA12 has an excellent rigging system. Audiovation, as our distribution partner for more than 15 years, encouraged us to make this investment and we're delighted with it. You don't purchase some Coda Audio loudspeakers, you get a full system, ready to rock.'
Monitoring used a Yamaha M7CL and Ultimate Ears UE-7 in-ear monitors. However, lead singer Sandra Nasic uses four Coda Audio Cue One wedges - a three-way 2x 12-inch/1x 1.4-inch Coaxial system.
More: www.codaaudio.com