A live video production company working on high-profile events in the Middle East, Liquid Productions has recently purchased the Roland Professional V1600HD live video switcher. The HD vision mixer was promptly used for the BBC Good Food Middle East Awards 2012 event held in Dubai.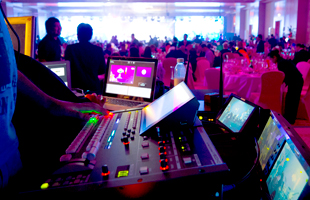 The unit is equipped with Roland's proprietary V-Link video control format was supplied by regional distributor Nicolas Kyvernitis Electronics Enterprises following a demonstration presented by NMK's Roland specialist, Moswain Antao.
The V1600HD is an all-in-one multichannel, multi-format live video switcher. It allows the operator to easily connect, mix and output to a variety of video sources such as cameras, VTR's, RGB Computer Sources, Blu-ray/DVD, and high-end SD/HD-SDI video sources making it the ideal choice for live video production.
'Liquid Productions has been working in SD for several years but, due to market needs, realised that a quick upgrade to HD was needed,' Antao says. 'The company was looking for a flexible yet cost effective solution – the V1600HD gives an all-in-one solution for any live event as it is multi-format, is HD and most importantly, simple to use.'
More: http://liquiduae.com
More: www.nmkelectronics.com
More: www.roland.com