Multi-Grammy-winning engineer Gabriel Castañón has upgraded his Mexico home studio with the addition of a Solid State Logic X-Desk.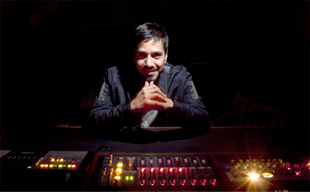 'After working on SSL consoles for most of my career, X-Desk seemed like the logical choice for me,' he says. 'There simply are no better sounding consoles out there on the market. Add to that the design and the immensely powerful functionality of the desk and you have the perfect heart that beats at the centre of my studio.'
Castañón's first Latin Grammy wins were in 2010, including Record of the Year after the success of single 'Mientes', by Latin rock legends Camila. And 2011's awards saw him add another for his work with Calle 13, the Puerto Rican hip-hop duo who took the Las Vegas ceremony by storm last November. With three awards to his name, Castañón has brought the heritage of the AWS 900+ that has helped him win them to his own studio.
'Everything I do goes through X-Desk,' he says. 'It allows me to connect all of my equipment together when I'm working on mixes, but I choose X-Desk for many reasons. The most important reasons are two-fold – the sound it gives me, and also the vast flexibility it offers when it comes to the signal path.
'Specifically, I love that X-Desk allows me to easily compress a signal with my XLogic Multichannel Compressor – which is strapped across my master mix bus – and run it in parallel to my original uncompressed signal. This is a very important aspect of my sound, and with the clarity of the X-Desk's signal path it creates a sound like no other.
'The fact that I can set up different sub-groups and process them differently is an incredibly powerful feature for a mixer of this size. Before acquiring my X-Desk it wasn't as fast and easy to group and apply signal processing to two sections of mixes that would ultimately be heading to the same master outs, so in that way X-Desk has made my workflow much, much quicker.
'SSL is now and always has been a part of the way I work. After working in the studios of Sony Music, as well as many other studios that have large consoles, I've realised that my X-Desk can successfully substitute for a large console in terms of sound quality and the way you can work,' he adds. 'This allows me to give a lot of sensibility and authenticity to the project I'm working on, no matter what it may be. For me these qualities are fundamental if you want to gain presence in today's music industry.
'Can I imagine working on my projects without SSL? No, absolutely not. The SSL sound has no equal… I wouldn't change the sound of this equipment for the world – it really is as simple as that.'
More: www.solidstatelogic.com