Rental, worship installation, touring and TV production placements have come quickly for Midas Consoles Benelux following the launch of the Pro2/C digital mixing console in 2011.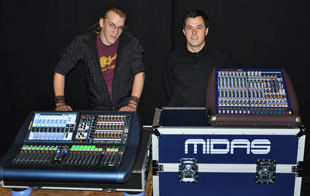 The region's first Pro2 was taken by Boerema Geluidstechniek, whose owners – Ton Boerema and audio engineer Auke Meijer – chose the system on its audio quality and the broad take-up of Midas digital. This was quickly followed by the Netherlands' Free Baptist Church Bethel, wich is also the first Pro2 installation in a place of worship worldwide. Supplied by John van Zeist from Hecla Professional AV systems, the Pro2 will be used by Bethel technicians for weekend services with an average of several thousand attendees. The system was chosen for its sonic quality and easy of use.
A total of three systems have gone to Amsterdam-based rental company Peak Audio, meanwhile. Owner Will-Jan Pielage and manager Casper van Aalst are already familiar with the Midas digital sound from Peak Audio's use of two XL8 desks for the ongoing Marco Borsato tour. They have chosen to expand their inventory with the Pro2 systems as it uses the same technology as the XL8s. One Pro2 will be used on the Youp van't Hek theatre tour and the other two for TV productions.
Hebron Harvest Ministries church and the De Flint theatre in Amersfoort have both ordered Pro2Cs, Flagey Brussels is to install a Pro2 and a Pro2C into its theatre and conference facilities, and music venue Poppodium Gigant has also ordered one of each system.
More: www.midasconsoles.com