The Event Services division of the Dubai International Exhibition and Conference Center (DIECC) has taken a a number of DPA 4099V microphones from Melody House.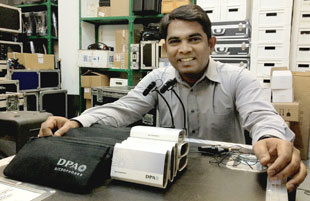 The local DPA Microphone distributor has supplied the DIECC with the mic in order to support its entertainment events – the division provides various audio, video and lighting services to clients at the centre. 'With the mount included with the 4099V, the DIECC has purchased the best violin microphone in the market,' says Amrith Verghese, DPA Product Specialist at Melody House. 'However, by adding any of the other available mounts, the same microphone can be used for numerous other applications making it a great investment.'
The 4099 is a clip microphone using the sonic approach from DPA's studio microphones. The 4099 microphone and the comprehensive mounting system is designed and optimised for applications that include bass, cello, drums, guitar, piano, saxophone, bass clarinets, brass, violin and mandolin.
More: www.melodyhouse.ae
More: www.dpamicrophones.com