A weekend of celebrations to mark the centennial of the African National Congress took place at Loch Logan Park in Bloemfontein during January 2012, where leading pro audio production company Prosound called on its Midas Pro-series consoles for FOH and monitor duties.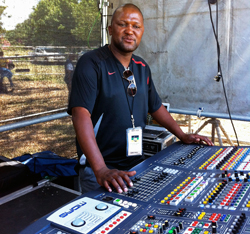 The Johannesburg-based company used a Midas Pro9 at FOH with a Midas Pro2 for monitors. 'It was our first opportunity to hook up a Pro2 and Pro9 in this way, and it's a dream set-up,' says Prosound's Mark Malherbe, who has been a Midas user for 30 years. 'You get all the benefits of the individual Midas digital consoles – great sound, great ergonomics and exceptional versatility – and when you team them together, the operation is seamless.'
The event attracted a crowd of 30,000, and included a multi-artist and multi-DJ line-up that was headlined by South African reggae superstars Tidal Waves and African indie-pop band Hot Water, interspersed by live-feeds which included South African President Jacob Zuma's speech to the nation.
Monitor engineers Matt Hallowes and Mandla Gumbe set up the Pro2 with 16 auxiliaries to feed the stage monitors, using Midas DL351 and DL251 modular I/O units connected via Cat5 cabling. The pair ran the console in its unique Advanced Navigation mode, with the Flip and GEQ controls, to make full use of one of its greatest innovations, MCA (Master Control Association) groups. These operate in a similar way to the established VCA (Variable Control Association) groups, but are specific to the selected bus. When the Pro2 is in Advanced navigation mode with MCA navigation engaged, the MCA faders control the contributions of their members only to the currently selected bus. When combined with the 'collapsed flip' feature, this is a unique and powerful mixing tool, which places the Pro2 in a league of its own for innovation and usability.
The two consoles were connected by generic AES50 virtual tie lines enabling full talkback between the operators. The resulting ease with which the consoles could communicate was used to maximum effect with all channel naming and VCA assigning set up on the Pro2, the settings then exported as a file to the Pro9.
At FOH, the Pro9 was linked to a Midas DL371 audio system engine by fibre-optic cabling. Soundchecks with individual bands prior to the event were saved as scenes for recall, enabling instant recall, while Area B on the Pro9 was reserved for broadcast feeds and MC mics. Additional equipment included a Klark Teknik DN100 DI box and a Klark Teknik Square Onemic splitter to handle the press feeds.
More: www.prosound.co.za
More: www.midasconsoles.com