Alongside production of conferences and meetings, UK-based Marsh Lodge Production Services (MLPS) reports substantial growth in the medical training market.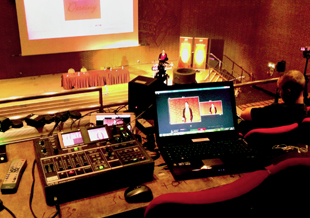 Calling on its A/V production expertise, this is driven by educational archive and medical companies providing online training for NHS managers and medical staff at all levels – an increasing part of professional development programmes.
To meet this demand, the company has purchased a Roland VR-5 AV mixer/recorder for mixing and postproduction of events and corporate training videos. Where previously the main requirement was the ability to produce a finished product with audio running alongside presentations, clients now want audio, video and slides – prompting MLPS owner Duncan McLennan to seek out a suitable mixer/recorder.
With its ability to mix audio, video and PC inputs, and a USB port for live streaming and the ability to record to SD memory card, the VR-5 fits the bill. McLennan and his team have also created proprietary software that interfaces with the VR-5 through Flash Live Media Encoder and PowerPoint, allowing a presentation and video to be viewed side-by-side in a flash player. This one file can be used by clients on their websites or, for example, to sell as part of a training package with smart extras such as Full Screen viewing, scrolling between slides and visible menu options.
Using the VR-5 with this software enables MLPS to run PowerPoint (the clients' presentation) at the same time as sending video and PowerPoint to the web and mixing it live for the live web broadcast. In addition timings can be logged automatically, and are used for the post event web broadcast.
As a USB video/audio class device, web streaming is readily achieved with the VR-5 by connecting a computer running a live streaming service (such as Usream) . After the event, the software is used to package all media, creating a finished file for the client. All video is saved to the VR-5, and can then be edited later and put in the postproduction webcast.
'The VR-5 provides us with an excellent solution for mixing PowerPoint and video as well as running video in PowerPoint to the web both live and post event,' McLennan says. 'Alongside our range of services, we specialise in producing a post event media package which enables our clients to exploit a meeting to its full advantage. This package is available almost immediately following the event and is offered at a highly competitive price; purchasing the VR-5 was a logical move for us to enhance ease of production.'
The VR-5 simplifies production, recording and streaming of live events as the design incorporates a video switcher, audio mixer, video playback, recorder, preview monitors and output for web streaming in a single unit. The reduction in hardware equipment, set-up time and connection complexity makes the VR-5 a popular solution for corporate presentation.
More: www.showtech.co.uk
More: www.rolandsystemsgroup.co.uk