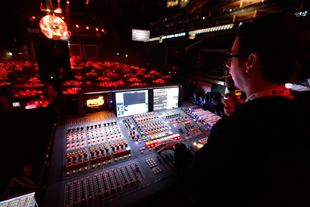 The biggest event in the British music industry calendar, the BRIT Awards is also one of the most challenging shows to stage.
The line-up of performing artists – that this year ranged from the simple guitar and vocal of Ed Sheeran to the full band, backed by choir, of Blur – are all broadcast live on TV to an audience of over six million.
For the 2012 awards, a total of nine artists performed on the night, including Adele, Bruno Mars, Coldplay, Florence and The Machine, Noel Gallagher, Olly Murs and Rihanna. All were mixed on the Pro6.
Midas provided all of mixing desks used at the event – a Pro6 at FOH with an additional Pro6 and a Pro2 on monitors, specified by the show's live sound supervisor, Derrick Zieba, and supplied by Britannia Row Productions. 'The Pro6 was perfect for the job,' FOH engineer, Britannia Row's Josh Lloyd, says 'Its ability to be pretty much completely reconfigured from scene to scene meant that I could have one band on a scene, hit next and I'd be ready for the next band. In that new scene I would have changed patching, bus configuration and fired midi messages to my external effects. The desk can load a scene or show instantly, with no delay.'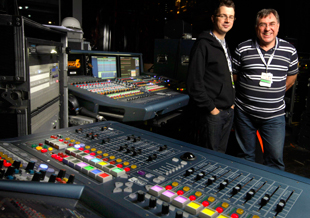 Some bands required multiple scenes for cues or different songs, while Lloyd himself used the notes as prompts for cues in the show once he had fired the scene.
On monitors, the Pro6 was used for six of the nine bands while the Pro2, the latest addition to the Midas range of Pro consoles, mixed the choir monitors and the stems for FOH and broadcast for Blur's performance. The consoles were networked using four Midas DL431 mic splitters for all inputs, a Midas DL251 I/O unit for the Pro2, a Midas DL351 to bus all the monitor I/Os and two Midas DL451 I/O units for insert and FXs. Additional equipment included two Midas DL371 audio system engines and a Klark Teknik DN9650 network bridge which was used for virtual soundchecks at FOH in conjunction with laptops with Madi interfaces.
'The use of the network gave us huge flexibility with signal routing and linking consoles in a seamless fashion,' reports Lloyd. 'The whole set-up delivered just what you need in a show with such fast turnarounds and such short periods for line-checks: speed, flexibility, reliability and, of course, that great Midas sound.'
BRITs' mics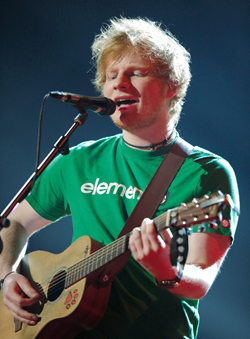 'Sennheiser has had the pleasure of assisting on the BRITs since being invited by sound designer Derrick Zieba and Britannia Row back in 2002,' says Sennheiser UK Artist Relations Manager, Mark Saunders. 'Initially, this was to support the large amount of Sennheiser equipment that was being used on the show. Since then, both Andy Lillywhite [Sennheiser UK's chief engineer] and I have been on-site throughout the rehearsals and shows, providing technical back up to the Brit Row crews, supplementing odd bits of extra kit and, where required, providing some extra not-quite-off-the-shelf type solutions for specific performances on the show.'
The event allows Sennheiser to showcase the quality and reliability of its equipment – and its support of clients and industry.
'The support and presence at the BRITs also shows incoming engineers/production managers that Sennheiser takes its support/endorsement programme very seriously,' Saunders explains. 'Over the years, the response has been hugely positive – the crews are always glad to see someone that can provide a back up to the main show crew. Very few manufacturers are in a position to – or choose to – do this, and it helps people understand that they are not just buying a box off the shelf.'
This year's event saw 17 channels of Sennheiser IEMs (G3s and 2000 series) plus 36 packs for host James Cordon and the performers; ten channels of EM 3732 dual receivers with SKM 5200 handhelds – again for Cordon, guest presenters, performers and award winners; 12 channels of EM 2050 dual receivers with SKM 2000 hand-helds and SK 500 transmitter packs for the compere, performers and for backline radio for instruments.
Additionally, Briannia Row's shout system comprised Sennheiser IEMs/headset transmitter systems with multiple channels of Sennheiser 2000 IEMs in use with Coldplay, who used their own equipment.
Derrick Zieba adds, 'Mark and Andy's consistent support on the Brits for over a decade has truly been invaluable and puts Sennheiser head and shoulders above other suppliers in this industry. As the Live Sound Supervisor on the Brits it helps me put visiting engineers and their artists at ease knowing they have such a skilled and dedicated team working with us on site.'
Other performers using Sennheiser equipment included Florence and the Machine with a custom SKM 5200 with 5235 capsule, and double award winner Ed Sheeran, with his custom e 935 vocal mic.
Having been involved in the show for a decade, Saunders has some memorable moments to call on: 'In 2003, we had to provide a quick-fire solution so that the 20 drummers drumming along to Avril Lavigne and her band were in time throughout the performance. We also had to ensure that two side-by-side, full stages (during the years at Earls Court when there were A and B stages flip flopping acts) were fully covered by the RF and didn't interfere with each other. There have also been various B stages, thrusts and long distances that needed to be covered, including Take That in the roof of Earls Court, and as they descended down to stage level for the performance.
'The move from Earls Court to The 02 presented certain RF challenges, but we have consistently helped to make 60-70 plus channels of RF work in tricky environments over the years and we are extremely proud to have been able to do so.'