Providing a 320-seat auditorium in the centre of a bustling city, Le Camji provides Niort in Western France with a central, dedicated performance space 'supporting cultural diversity through the medium of contemporary music in general and amplified modern music in particular'.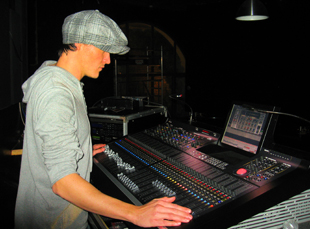 Opened in 2000, Le Camji provides a venue for local,as well as concerts from well known and established artists, talent and introduces young performers to modern technology.
When the time came to upgrade its audio facilities, Le Camji turned to Poitiers-based systems integrator Agora Audio, who specified and installed a digital system based on a EtherSound network and an Innovason Eclipse GT digital console.
According to Agora's David Rocher, it was the Camji's role of nurturing local talent by offering the opportunity to rehearse their shows and use the professional expertise of the Camji staff, as well as the technology of the facility, that highlighted the need for a multitrack recorder that could be networked with the mixing consoles.
Based in Poitiers, Agora provides mobile and permanent audio installations, project engineering and specialised audio equipment.
'Rehearsal and practice with young and/or inexperienced groups is an important part of the function of Camji,' Rocher continues. 'It became increasingly evident that some form of multitrack device was required for both recording and playback purposes to help with rehearsal as well as working on the sound without musicians during show creation times, and it had to be networked to the console. Eclipse was therefore an obvious solution as it incorporates an extremely high-quality multitrack recorder [Mars] which enables a virtual soundcheck at the click of a button.
'Camji hosts workshops on a number of different themes throughout the year,' Rocher adds. 'It's therefore a real advantage having a tool like the Eclipse to work with – it's a great example of modern digital mixing technology at its finest, complete with multitrack recording, a huge range of digital audio networking possibilities and the ability to configure the console in any way you want. Furthermore, the sound quality is exceptional, and it's incredibly compact and lightweight when you consider how powerful it is. It is a success at every level.'
More: www.innovason.com
More: www.agora-audio.com