Pearl Microphones are now being distributed in Australia by Professional Audio Technology. The arrangement is being marked by a reduced-price offer on certain models.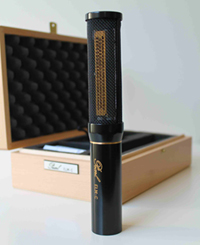 'These mics have to be heard to be believed and this gives you the opportunity to add them to your mic collection at a fraction of the normal RRP,' says PAT MD, Patrick Salloch.
The Swedish manufacturer ELM-C has made a strong impression around the world, among those having used them is San Fransisco Symphony engineer and producer Jack Vad: 'For more years than I care to admit, we've resigned ourselves to a very compromised pickup for chorus with orchestra,' he says, 'Close canopy reflections, upstage percussion/brass leakage, and the typical off-axis coloration issues with cardiod mics both large and small diaphragm create a very interesting challenge. Due to it's unique directional characteristics, the Pearl ELM-C has dramatically improved our chorus pick-up in all these difficult areas.
'Additionally, the ability of this microphone to further enhance the chorus blend has been a big bonus. The Pearl ELM-C is one of the most significant microphones in the San Francisco Symphony collection. It is a unique musical tool that stands alone.'
'We are celebrating with an exciting special on Pearl mics throughout February and March,' says Salloch. 'On special are the CC-22 for only Aud$1299 ex GST (which has a recommended retail price of Aud$1681.50 ex GST) and the amazing ELM-C which we are offering for only Aud$1735 ex GST from an RRP of Aud$2310 ex GST.'
More: www.proaudiotechnology.com.au
More: www.pearl.se