Since opening 13 years ago, Arnhem's GelreDome has established itself as one of the Netherlands' premiere multipurpose venues.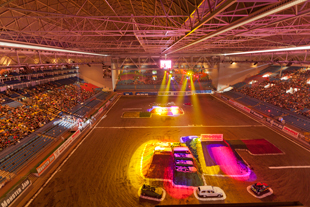 To date, it has hosted events ranging from the Euro 2000 football tournament to the annual music festival Symphonica in Rosso, with headliners like Sting and Paul McCartney.
The GelreDome can accommodate up to 35,000 for concerts in the round, while for sporting events it has a capacity of 26,000 and is home to the Dutch premier league football club Vitesse. It is one of Europe's most flexible and high-tech stadia with its retractable roof and a fully retractable, climate-controlled pitch.
The original GelreDome project specification called for a system system capable of providing emergency paging for all applications, a complete system for in-the-round concerts, a plug-and-play delay system for visiting shows, plus speech and entertainment during sporting events. TM Audio was the contractor to provid the required system and, as the system was due for modernisation, was recently contacted to carry out an update.
The original system has remained largely unchanged, but the variety of event types being held at the venue had created the need for greater flexibility in the PA system's power and networking control. This, combined with considerations of the age of the technology and of the system itself, made it evident that it was time for a general overhaul.
'We were looking for a good partner for the new installation of a very large number of amplifiers and the control system,' Mark van Acker, head of the GelreDome technical division since April 2004, says. 'TM Audio was our partner originally, and its technical proposal was good this time too, and the whole package and price made sense all round. The amplifiers we had were 13 years old, like the stadium, and when they needed repairing there were no spare parts anymore. Also, the old system was very analogue and all on copper, so if there was a system issue TM Audio had to come here to sort it out on the day of an event. Now it's a fibre -optic system and any diagnostics can be done by them remotely in real time over a VPN network.'
The two most critical areas requiring new thinking were the amplifiers and the control network to support them.
The loudspeaker system consists of 72 Renkus-Heinz CE-3 series cabinets flown in a ring of 18 clusters from the roof, while 14 more of these can be set up for speech and paging at pitch level. The clusters for the long stand can also be rotated to change the system from a dedicated delay format for end-on concerts to an in-the-round format.
'We decided to use a Nion MediaMatrix system for the control, matrix and DSP power for routing,' says TM Audio Project Manager, Olaf Landzaat. 'Then we were looking for a reliable amplifier that could deliver a lot of power in a small space, with integral DSP and networking, so that it could handle any speaker system that might be installed in the future.
'The end of that thought process was to use the special abilities of the Powersoft Duecanali class-D amplifier – it can deliver two times 1,950W at 4Ω , so you can basically connect any speaker you want to it, in just 1U of rack space, and with the switch-mode power supply and Powersoft's other technologies it sounds superb. It's also very "green", in that its design makes it highly efficient and consumes much less power per watt of output – which is increasingly important to end users these days, especially when they're running a system on an almost daily basis.
'The only problem we had was just that, at that time, there wasn't a Nion control block to allow us to monitor the Powersoft amplifiers from within Nion. So we talked to Powersoft and they were very happy to help by creating a dedicated software plug-in for the MediaMatrix system so that we can control and monitor the amplifiers. That was important because it also meant the complete system met the regulations for a voice evacuation system, because that is one of its key roles.'
The installed system now comprises 68 Powersoft 3904 two-channel amplifiers with integral loudspeaker DSP and AES I/O. These are racked in three separate locations, one large double rack in a back of house space and two single racks mounted on a narrow catwalk that spans the width of the stadium's roof. Here, the Powersoft package of high power in a small and light device proved a big asset.
'We wanted to located the racks as close as possible to the loudspeaker positions to minimise cable runs,' says Landzaat. 'The fact that we could squeeze so much power and so many channels into just two racks meant they could be accommodated on the catwalk without extensive building works.
'The solution really works because we have a great amplifier that doesn't have coloration,' he adds. 'It is an honest amplifier, and the high damping factor has made a big difference to the bass end of the speaker system. It sounds tighter in the low to mid frequencies despite the reverberation in a stadium, and more open and clear in the high frequencies. And your speech intelligence is better – all good things for the client.'