In an Australian first, DiGiCo and Nexo have become an essential element in a new Performing Arts Centre. The installation is part of a full audiovisual solution designed, supplied and installed by Dominica Sound at Helensvale Primary, one of Australia's most respected schools.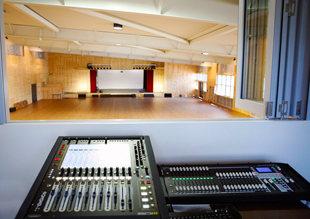 Located in Helensvale along Queensland's Gold Coast, the school's new hall measures approximately 40m x 25m with a stage at one end and elevated seating at the other. It can accommodate 1,100-plus people and is designed for a wide variety of applications as Steve McCallum, Director of Dominica explains:
'Helensvale wanted to ensure the space was able to accommodate a wide variety of events. The school was previously hiring halls at the local Arts Centre but wanted to become self-contained in order to cut operational overheads. It also intends renting the centre out to other schools to generate income while saving other schools money at the same time.'
The audio system comprises a Nexo Geo-S12 system, including four Geo-S12 speakers (a Geo-S1230 and a Geo-S1210 flown per side) and two RS15s ground stacked either side of stage. McCallum's choice of loudspeaker system was based on the requirement for even sound distribution across the room.
'The distance from the stage to the end of the hall was too far to use anything else,' he says. 'We would have had to have used delay speakers half way down the hall using other products and that wouldn't have worked well for people sitting in certain parts of the hall. The reflections would have made it near impossible to get right. There was also raked seating up the back which ran about 4m high. People sitting in those seats also needed to be considered. With the Geo-S12 system, we were able to get the sound evenly dispersed across the whole space. It sounds beautifully clear from end to end. Even kids with the weakest of voices can be heard perfectly now from anywhere in the entire room.'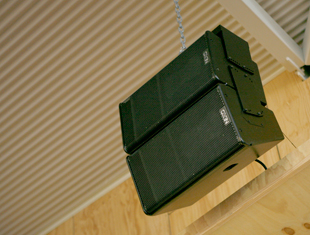 To compliment the speaker system, the centre installed an SD11 console: 'We went with DiGiCo because it turned out to be a higher-quality and more cost-effective solution than anything else,' he says. 'When looking at other digital consoles that would have required a digital core, the price point became comparative to the DiGiCo. The sound quality of any other digital console wouldn't have been anywhere near as good as the SD11 so it was a simple choice.'
Another advantage of the SD11 was the ability to configure the console for non-technical users, such as teachers and student A/V operators from other schools. 'Helensvale holds a talent show every single school day at the end of the day, so the system is getting regular use. The DiGiCo was set up with every input on every layer so anybody could walk in, clearly see which fader belonged to which input and begin using the desk. The teachers have commented on how easy it is to use. They just turn it on, select the inputs and then control volume, it's that simple.'
In addition to the sound system, a complete lighting solution was also installed by Dominica. six LED strips, 24 white bars, five colour bars, 18 coloured LEDs, 22 white LEDs and a Strand 200+ console were installed. A 6m-wide projector screen was also installed at the rear of the stage.
'The school doesn't have easy access to the lighting system so we decided on LED lighting with changers. It was a low-maintenance and long-lasting solution, which we could set and forget. We decided to go for a 6m screen because we wanted to make sure anyone sitting at the back could still read text off the screen. From a 40m distance, a 6m screen is really required. We put the sight screen at the back of stage as it was the only place dark enough to get a really good image.'
Feedback from the school has been extremely positive also. 'Everyone loves the new system. One of the teachers told me they feel like they've won the lottery. We wish them all the best with their new space.'
More:
www.grouptechnologies.com.au