US producer Taz Arnold has used different coloured AuralexAcoustics Studiofoam Pyramids and Wedges to achieve acoustic control of his new studio space.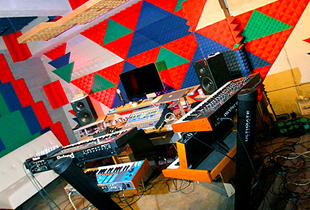 The studio is part of a two-story loft in a high-rise building in downtown Los Angeles. The building is all cement, not an ideal acoustic environment, and originally, the studio space had a severe echo. Along with the wall panels, he has also installed a number of WaveLens, part of the Sustain Bamboo Sound Diffusors, on the ceiling above the mix position, and several LENRD Bass Traps in the corners to tame the space.
'Auralex really changed both the sound and look of my studio,' he says. 'The delay was so bad it was hard to have a conversation in there because there was too much echo. There is a remarkable difference in sound and a remarkable difference in looks. Auralex played a major role in the design of my studio.'
Aside from its acoustical properties, the panels provide the primary design of the studio: 'The overall design idea we came up with is an American Indian concept,' says Clark Walter of Astro Audio Visual Lighting, who designed the space. 'Since Taz is not only a producer but also an artist and a clothing designer, the studio was inspired by the designs he sells in his store. Since Auralex has such a wide range of acoustical foam options in terms of cut and color, we were able to install them side by side in different configurations in a way that created a unique design, but also solved all the previous acoustical problems.'
Auralex's Studiofoam Pyramid panels and Studiofoam Wedges are designed to kill standing waves and flutter echoes where sonic accuracy is mandatory and stronger acoustic absorption is required. The LENRD Bass Traps control the low-frequency resonance bumps in rooms, which helps improve a sound that is otherwise often described as 'boomy.'
As a green alternative to traditional hardwood, the Sustain Bamboo Sound Diffusors are used to improve the overall sound and sonic warmth of the space. They also keep sound waves from grouping by scattering the sound more evenly throughout a room. The open-boxed design of the Auralex WaveLens scatters and redirects acoustical energy. The WaveLens is beneficial in numerous applications, as it can create a 'large sound' in a small room, as well as optimise the performance of other absorption panels by redirecting the sound energy.
The studio is unique in that the control room and the main studio room are all in one big space, although there is a separate isolation booth. The studio is equipped with several vintage keyboards, including a Fender Rhodes piano and a Wurlitzer electric piano, along with vintage Prophet-5, Minimoog, Roland and Yamaha synthesisers. Arnold also uses Pro Tools. In addition to album work, the studio is also used for music-video shoots.
Arnold has worked with the likes of Kayne West, Snoop Dog, Janet Jackson, Herbie Hancock, Iggy Pop and many others,
More: www.auralex.com