Building its presence among premium concert venues in the Amsterdam region, Martin Audio has added new Amsterdam rock venue (and cultural centre), Duycker to its CV.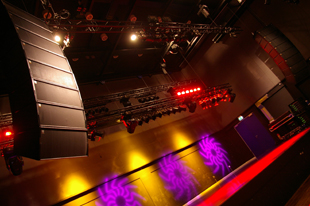 The new venue joins the iconic Paradiso and Melkweg clubs, and sees a Martin Audio W8LCi compact line array system installed in partnership with Dutch distributor, TM Audio.
Owned by the local government, and situated near Schiphol Airport (in the affluent town of Hoofddorp), the complex comprises two live rooms and a café bar, where sound reinforcement is provided by Martin Audio's AQ architectural range.
The Martin Audio W8LCi system, meanwhile, was chosen for the 850-capacity live room after it had proven itself against modular systems – experienced freelance sound engineer, Gerald Chermin, was brought in as technical director to select the system, as well as to streamline the routing and optimise the system.
With a large balcony affecting both sightlines and coverage patterns, Chermin called on experience gained working with companies such as Ampco, to assemble some of the market leading systems in a competitive shoot-out: 'We assembled a panel of different sound engineers, with one person tuning all the systems. We realised the line array approach would overcome both balcony coverage sightline issues, whereas going modular would have required too many boxes.'
The system has been designed to provide plenty of headroom, and is based around seven W8LCi enclosures per side, with one W8LCDi Downfill at the base. Six Martin Audio WS218X subs are stacked, three a side, to provide LF extension.
The main system is run three way but driven in four separate parts by a combination of Martin Audio MA6.8Q and Powersoft K8/K10 amplifiers, processed via XTA DC1048 4-input/8-output DSP. Three DiGiCo SD8s have been provided for FOH, monitor (and portable) duties.
'We have definitely made the right choice with the Martin Audio system, which is proving popular with incoming production crews,' Chermin says. 'We chose the system not only because it represented excellent value for money but the fact that it could be divided up into four separate sections.
'We also knew we could depend on excellent back-up from TM Audio and [sister company] Lightco, who provided the lighting.'
Meanwhile in the café bar, music sourced from a DJ or computer, mixed via an Allen & Heath GR2 analogue zone mixer, is played out through four Martin Audio AQ8, two AQ6 and an AQ210 subwoofer, managed by a dedicated AQX system controller.
The arrival of Vari-Lites in the near future will place the final piece in the lighting jigsaw – operating under the control of Lightco-supplied Avolites desks. But the local population has a leading destination venue to kick-start their weekends.
More: www.martin-audio.com
More: www.digico.org
More: www.allen-heath.com