A three-week run of performances at The 02 in London showcased more than 100 bands, including The Feeling, Irwin Sparkes (Hoosiers frontman) and up-and-coming UK artists Nicki Garnett, Belakiss, Laura Steel and Treetop Flyers.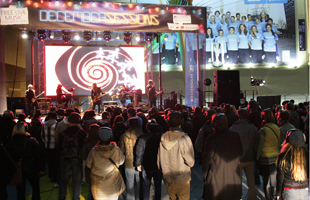 Run by Silentgig and supported by PA company The Audio Group, the sessions were a series of free performances to celebrate emerging UK talent, hosted festival-style on an outdoor stage in the London Piazza at the O2. The event made particularly good use of Allen & Heath's iLive digital system – in this case, an iLive-T112 Control Surface at FOH and iLive-T80 on monitors both connected to iDR-48 MixRacks using Audinate's Dante technology as a digital mic splitter, which also fed the Dante virtual soundcard for a multitrack recording of the performances.
'The Audio Group is a long-time user of the iLive systems,' explains MD, Nadar Shahzad. 'The flexibility of iLive and simplicity of the patching system on the editor software meant creating a custom surface for visiting engineers was a simple drag-and-drop operation for our FOH system engineers.'
To achieve the turnaround times and band set-ups, a festival-style patching system was put into place for the event duration. Chris McCarron from Silent Gig Ltd was tasked with making sure iLive was fully configured for the visiting engineers.
'At first I was quite dubious about using the desk but after about ten minutes I was won over,' says FOH engineer, Sean 'Rampton' Cranny. 'Its ease of use and accessibility to parameters is very quick, its processing of information is instant and the A/D conversion is very impressive. The big thing for me was its layout - very easy to understand; that coupled with the iLive Editor software makes this desk a winner. Editor is so easy to use and configure, it enables you to interact with the desk before, during and after the gig. Other manufacturers need to take note of this.'
The Sessions also included a special Silentgig production, headlined by The Feeling with support from Laura Steel and The Anderson McGinty Ward. Silentgig provides the audience with a stereo image of the FOH mix through of a set of Sennheiser wireless headphones, rather than through the conventional method of sound reinforcement. By using a third iDR-48 MixRack, also equipped with a Dante networking card, the Silentgig team could give some audience members the chance to mix the performance for themselves.
'We set up several PL-10 panels running off the third MixRack and this allowed us to give the audience in the VIP area a chance to mix a separate, simplified version of the FOH sound,' explains Shahzad.
With up to five bands performing each night, the production went smoothly despite the hectic schedule. 'Audiences and performers were happy with the service and sound quality throughout the three weeks,' says Silent Gig's Chris McCarron. 'This is digital mixing as it should be.'