Turkey distributor Elit Light&Sound Technologies has reported a series of installations and projects in Istanbul using L-Acoustics loudspeaker systems.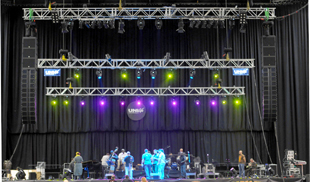 Among them, technical production companies 911 Music and Pia Stage Technologies worked with Elit to provide sound and lighting for a concert at new Istanbul venue, Ora Arena. Featuring the Buena Vista Social Club and Omara Portuondo, the gig called on 12 L-Acoustics Kara WST line source speakers per side, together with four L-Acoustics ARCS, ten SB18 and six SB28 subwoofers for the main PA. The system was driven by ten LA8 amplified controllers. Onstage, 16 active 112P coaxial loudspeakers provided monitoring.
The prestigious concert featuring the multiple Grammy-winning Cuban band was organised by Turkish event management company Unilife.
'The Kara system never disappointed us,' says911 Music partner, Hamid Nejatemin. 'The 10° vertical, 110° horizontal dispersion enabled us to achieve equal sound at every point in the hall. The line array created an "in your face" effect even at FOH, 50m away. The ARCS also took care of the blind spots.'
Also in Istanbul, bar-restaurant chain Bistro 33 has installed L-Acoustics systems into two new premises. Two 108P coaxial loudspeakers and two SB15P subwoofers have been used at 33 Bağdat Street, providing a sound ambience to match the chilled atmosphere, quality and comfort of the new branch. Meanwhile, Elit has installed four 8XTi coaxial loudspeakers and two SB18i subwoofers, powered by two LA4 amplified controllers, into Bistro 33 at the Palladium Shopping Mall.
Giritli by Theo has opened its doors to the public at Istanbul Suadiye, again with an L-Acoustics sound system from Elit. The brainchild of Theo Kalyoncu, son of leading Turkish singer Fedon, Giritli is inspired by the Greek islands and offers cuisine and live music from the Aegean and Crete, in addition to a line up of surprise guest artists who regularly take the stage. Here, four L-Acoustics 8XT coaxial loudspeakers and two SB118 subs powered by LA4 amplifiers have been installed.
More: www.l-acoustics.com
More: www.elit-tr.com