A recent performance by Indian composer, singer-songwriter, record producer, musician, multi-instrumentalist and philanthropist AR Rahman at the Dubai Cricket Stadium pulled in a capacity crowd.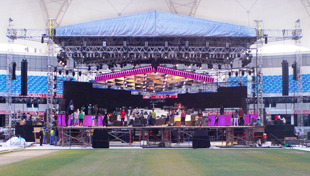 Production for the event was provided by the Muscat-based Talentz Centre – the largest production operation in Oman and whose expertise in large-scale events takes it all over the Gulf region, including the UAE. The company has invested significantly in Outline Butterfly systems with MD, Baltazar Fernandez, quoting the products' consistency, quality and flexibility as key factors in his company's ability to handle visiting international acts.
At the Dubai Cricket Stadium the company rolled in an Outline Butterfly system, comprising a 16 per-side flown LR set-up with eight further enclosures per side as 'wraps'. Twenty Outline Subtech 218 subwoofers provided low-frequency reinforcement, and the system was powered by Outline T-Series amplifiers. Despite the size of the venue and crowd, only one mono delay tower comprising eight Butterfly high packs and four Subtech subwoofers was required.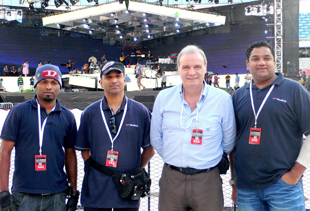 The Dubai Cricket Ground poses particular challenges for visiting production companies, being well known for slapback echo from a combination of the roof covering the seated area, the huge video screens and the plastic material used to protect the playing surface during events.
Outline's senior technician Francesco Ferretti tuned the system using the company's Open Array 3D prediction software. The accuracy of this system plus the extremely tight dispersion characteristics of Butterfly was enough to keep unwanted reflections to a minimum, resulting in even coverage and intelligibility throughout the audience area.
'Despite its small footprint, I was very impressed by the clarity and power handling of the Outline Butterfly system, says FOH engineer KJ Singh. 'Mr Francesco from Outline did a fantastic job of tuning and aligning the system very quickly, and it was amazing to hear its wide, even dispersion, especially considering the difficult acoustic environment that we were in. I am a convert…'
More: www.talentz.net
More: www.outline.it