UK-based Presentation Rentals provided technical production for recent events featuring keynote speeches by Microsoft's Bill Gates.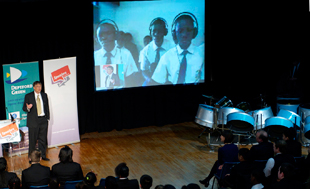 Taking place on the same day in London, the first was a live broadcast by the BBC from a East London school, complete with satellite link to a school in Uganda. Later in the day, Gates and Professor Hans Rosling spoke and took part in a live webcast from the London School of Economics (LSE) in central London addressing the 2012 Global Poverty Ambassadors and students. Gates also used this as part of the London launch of his Annual Letter.
Presentation Rentals worked with live event and communications agency Stretch, the event producer, and for whom PR is a regular technical consultant and solutions supplier. PR's project manager was Justin Hammond and Ed Higgins co-ordinated all the elements required for Deptford Green School.
The speech took place in a school theatre/concert/lecture hall venue and had called for an 'inspiring' orator to visit and address pupils via the BBC's Speakers For Schools programme. The school had appealed to the Bill & Melinda Gates Foundation because of its strong international connections and long standing global youth partnership exchange with Uganda – not quite expecting Gates to show up.
PR installed a 10K Panasonic projector for the presentation and a 10-ft x 7.5-ft floor mounted screen behind Gates on the stage, and set up the live Skype video link to Uganda. To ensure Gates was well lit for the broadcast, PR brought in some Source Four profiles for key lighting, which were rigged on to the house trussing.
The video link was sent to a BBC engineering team about 120m away in a classroom in another part of the school, while the audio link went via ISDN line to Bush House, from where it was bounced by satellite to Uganda.
In Deptford Green School Hall itself, PR installed a d&b audiotechnok T10 cluster PA system with a Yamaha LS9 mixing console, a Shure radio lectern mic and a Sennheiser lapel mic for Gates to ensure the packed and enrapt audience could fully enjoy the occasion with high clarity sound reproduction.
The challenges included ensuring the audio link from Uganda had no delay, for which the six students appearing on camera at that end had to wear headphones to reduce the latency in the signal.
Gates outlined his continuing fight against malaria, polio and poverty, followed by a Q&A from students, and was also attended by national and international TV and media.
Staged in one of the central London College's regular lecture theatres, meanwhile, PR served as technical consultant to ensure that all the correct elements were in place for a smooth webcast.
This event was organised by the Global Poverty Project who have partnered with the Co-Operative during the UN Year of Co-Operatives, launching a new campaign to raise awareness and inspire communities to take action for the 1.4bn people still living in extreme poverty.
Here, PR supplied a 10,000 lumen Panasonic HD projector and Analog Way Diventix2 mixer and used the in-house screen, working closely with LSE's technical staff. The speech and presentation graphics were run on a series of MacBook Pro laptops integrated into the playback system, and PR supplied a second projector to beam live Tweets related to the event onto the wall. PR refocused the existing room lighting fixtures and advised on how to optimise the house sound system for the live audience and the internet stream.
'It was a great honour to be working with Bill Gates and high-profile organisations like the BBC, LSE and Global Poverty Project – combined with the excitement, energy and pressure of live broadcast,' says Justin Hammond. 'There is no room for errors and it's definitely a "right first timer scenario. With good planning and technical knowledge applied in the relevant areas, everything went seamlessly.'