Claiming its place as the first Western musical to be performed in Mandarin with a Chinese cast, musical Mamma Mia! is currently playing in Guangzhou – the first time a production has been performed by a local cast, with a translated script.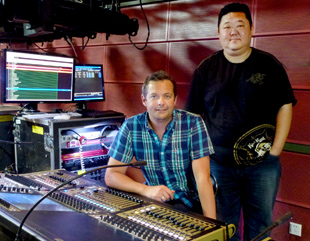 Technically the approach for the audio was the same as it has been for all other recent productions of Mamma Mia!, including the DiGiCo SD8 mixing console that is being used at FOH. And with runs in Shanghai and Beijing already in the bag, the DiGiCo SD8 at FOH is a familiar sight.
With 13 principles, an ensemble and a six-piece band, this is a medium-sized production – making the SD8 a good fit. But it wasn't always that way.
'Because of China's import laws, we realised that it would be quite difficult to get the equipment in and out of the country,' reports the production's Associate Sound Designer, Richard Brooker, who works closely with Sound Designer Bobby Aitken and has been involved in 21 different productions of Mamma Mia! around the world.
'This being the first production of its kind in China, we had no historical experience of which Chinese production companies had the skills to manage this production,' he continues. 'We needed to be confident in the finished result, so the responsibility was placed on Seoul Sound. They have a lot of experience of this level of show as they have put on many international productions in Korea.'
DiGiCo consoles have been involved in the show since the first production transferred to the Prince of Wales theatre in London in 2004, where a DiGiCo D5T was originally specified. However, the huge success of the production has led to it being technically redesigned to fit on to a much smaller console: 'Two years ago, a decision was taken to make the show more accessible to smaller territories and producers,' Brooker says. 'To achieve this it was redesigned from all angles, including sound, so that it now fits on to an SD8 perfectly.'
The production uses a total of 83 inputs and 54 outputs, with 117 snapshots/scenes during the performance and much use being made of the SD8's internal effects.
'It is astonishing to think that it actually fits on to an SD8, but that says a lot more about the desk than anything else,' Brooker says. 'The SD8 is designed for a certain market and really you wouldn't think that market could encompass a production like Mamma Mia!, which is a global success. It goes to show both how versatile and what high quality the SD8 is.'
Taking an established show to China for the first time required a truly international sound team – which also included Dutch assistant sound designer Wibo Vermeulen, Belgian production sound engineer Raf Rutgeerts, Seoul Sound's production sound engineer Hwang Kyun-Cheol, Taiwanese sound operator Kevin Wang, Chinese technical production manager Wei Han Liao and production manager Simon Marlow - ensured that this production of Mamma Mia! is as high a standard, if not more so, than any previous version.
'For all of us, it has been a really exciting project to be part of,' says Brooker. 'Inevitably it has had its ups and downs, but it is already very successful. Audiences are loving it – perhaps the most surprising thing to Western ears is that it sounds exactly like Mamma Mia!, only in Mandarin. As China is such a huge country, there is the potential for it to tour for a long time yet.
'Having just done two shows on an SD7, which is an astonishing console, the core usability and audio quality is no different,' he adds. 'That's uncommon from a manufacturer. To me the slightly more budget consoles normally sound 'more budget'. But, having used an SD9 as well, the quality continues the whole way through the range.'
Mamma Mia! in China is produced by United Asia Live Entertainment Co by arrangement with Judy Craymer, Richard East and Bjorn Ulvaeus for Littlestar in association with Universal.
More: www.digico.org
More: www.seoulsound.co