A star-studded opening ceremony marked the reopening of Moscow's premier playhouse, the Theatre of Nations, following a five-year renovation project.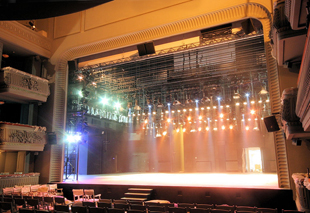 Its return to operation finds it equipped with an APG loudspeaker system, designed, supplied and installed by Russian pro audio and lighting specialists, Doka Center – who also supplied the motorised lighting and staging systems.
'We specified an APG system because we have we have complete confidence in both the products and the company,' says Doka Center Head of Sound, Sergei Yurchenko. 'We have a vast experience of the brand and we know that we can always deliver a top quality solution using their products, especially as we can accurately predict the results using Ease software.
'For the Theatre of Nations we decided on a main system based around DS15s around the proscenium arch because it's an extremely versatile cabinet with a lot of flying/hanging options, and it offers superb sound reproduction. We opted for the compact MX1 for delays and fills.'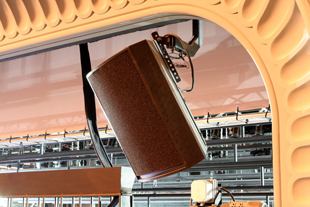 The complete system comprises six DS15 for the main system (a central cluster of two DS15 with two single DS15s per side) with two more hidden on a balcony dedicated to effects. Each of the 12 private boxes is equipped with an MX1 in white, and a further eight MX1 for fill.
The stage monitoring system comprises a further two DS15s supplemented by four MX4, while a BM3000C cabinet per side handles stage effects. Finally, Yurchenko specified two TB218S subs for low frequency reinforcement. The entire system is driven by Lab.gruppen C Series installation amplifiers with APG processing throughout.
A unique structure with a wide-ranging programme of activities including its own original productions, the Housed in the former Korsh theatre that was built in 1885 on land belonging to the millionaire Bakhrushin merchant family, the building was renamed after the collapse of the Soviet Union in 1991.
Phase two of the renovation project, which is scheduled for early in 2012 and will include more APG equipment, will concentrate on the renovation of the theatre's smaller hall.
The reopening of the venue was marked by a visit from Russian Prime Minister, Vladimir Putin. In accordance with an old theatre tradition, Putin was asked to hammer into the stage a silver ruble minted in the year the theatre was founded. Putin duly obliged, and rounded off the visit with an impromptu turn at the piano.
More: www.apg.tm.fr
More: http://labgruppen.com