Eight hours of non-stop music marked the 75th anniversary of MediaCorp Radio at Singapore's Marina Promontory recently.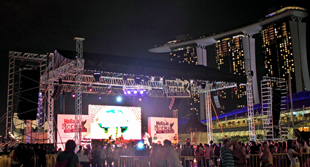 MediaCorp – Singapore's leading media company – hosted the MeRadio Rocks The Marina! celebratory concert, staging more than 25 local acts for an audience of around 5,000. Up front, the sound reinforcement system was provided by local company, Showmakers.
The Singapore-based company – which claims more than 15 years of event production experience – called on its inventory of DAS Audio loudspeakers, as DAS Audio Asia MD Juan Luis Garcia describes: 'We have an Aero 50 system in Singapore that is frequently used for touring throughout the Asia-Pacific region, and we certainly couldn't leave Singapore, our home market, short-handed, so we worked together with our local partner Showmakers, to assemble a system well suited for this event.'
The system comprised 16 DAS Audio Aero 50 three-way line array elements – flown eight enclosures per side for the LR house mains. For low-frequency support, these clusters were supplemented by 16 LX-218CA subwoofers, which were ground-stacked eight enclosures per side. To provide sid efill for the artists onstage as well for the audience immediately in front of the stage area, three clusters – each of four Aero 12A two-way, mid-high line array elements – were used. The side fills were placed at the far left and right sides of the stage while the center hang provided front fill.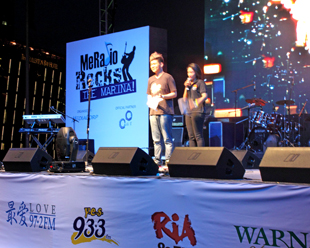 The on-stage set-up included eight DAS Road 15A powered two-way stage monitors and another four Road 12A 12-inch, active two-way stage monitors. ADAS Audio Avant 118A powered horn-bass subwoofer was used for drum fill.
While most of the loudspeaker systems were self-powered, the large format Aero 50s were driven by a contingent of Lab.ruppen fP 10000Q four-channel power amps. For amplifier monitoring and control, a Lab.gruppen NLB 60E NomadLink Bridge and Network Controller was placed into service while DAS Audio's DSP-4080 4-input/8-output DSP-based audio processor handled loudspeaker management chores.
'This concert included performances by Singapore's top local bands, including singer, songwriter Don Richmond, Matthew & The Mandarins, Heritage, Douglas Oliveiro, and Jack & Rai,' says Francis Tay, Showmakers' Project Director. 'The system that we, in conjunction with DAS Audio, assembled really showed its versatility with all the different acts and their wide variety of musical styles.'
'Being part of a MediaCorp event in the sparkling new Marina Bay area was, without question, a great showcase for our large format line array Aero 50 system,' adds Jolin Lee, from DAS Audio Asia Marketing & Sales. 'The MeRadio Rocks The Marina! concert was also a good opportunity for some of the best local bands and artists to experience a DAS sound system, especially with the newly arrived Road stage monitors, which are new to the Asia region.'
More: www.showmakers.com.sg
More: www.dasaudio.com