Sharing its location with Genghis Khan's Mausoleum, the Ejin Horo Banner Theatre complex in Ordos has refurbished the sound system serving its 1,200-seat theatre space, as well as its concert hall and multi-purpose hall (each with a capacity of 600) and six conference rooms.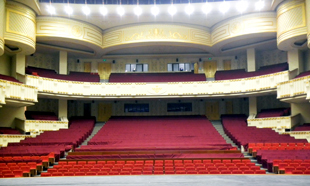 In each of the performance spaces of the venue – which is situated in the Inner Mongolia autonomous region of China – Fohhn Audio loudspeaker systems have been installed with a view to achieving excellent reproduction of speech and music, combined with flexible remote control and networking possibilities, while remaining sympathetic to the architectural surroundings.
A selection of Fohhn's Arc-Series compact high performance loudspeakers have been used in the main theatre, including 18 AT-66, 44 AT-07, 12 AT-201 and eight AT-50 models, along with eight Linea AL-20 line source speakers, ten AS-40 subwoofers and eight XM-4 stage monitors. This part of the installation also includes 20 D-2.1500 (two-channel) and ten D-4.750 (4-channel) DSP-controlled digital amplifiers and an NA-1 Fohhn-Net Remote.
The concert hall, meanwhile, has been fitted with 12 Fohhn PT-8 compact line array systems, four PS-2 subwoofers and four XM-4 monitors driven by four A-2.2100 and two D-2.1500 digital amplifiers. An FC-8 DSP system controller and an NA-1 Fohhn-Net Remote have also been included. In the multi-purpose hall, AT-50 and XT-33 loudspeaker systems have been combined with AS-40 subwoofers, D-2.1500 amplifiers and an FC-8 controller. Each of the conference rooms has also been equipped with 12 Linea AL-50 systems and twelve XS-10 active subwoofers.
The installation markes the end of a two-year period that has seen a significant number of Fohhn loudspeaker systems delivered to the Far East for prestigious installations and events.
'We are delighted to have supplied another comprehensive range of systems for this latest installation and we would like to congratulate our partner Shoushan System Integration for its excellent work,' says Fohhn Audio Director of Sales & Marketing, Uli Haug.
More: www.ssitech.cn
More: www.fohhn.com