The London flagship Abercrombie & Fitch store recently called on Technomedia Solutions – an audiovisual/interactive design, consultation and installation firm headquartered in Florida with offices in New York, Las Angeles, London and China – to rejuvenate its sound system.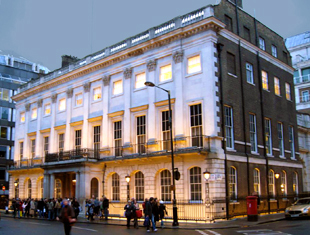 'Our original objective was to redesign a sound system that would fit into the past design approach in the flagship stores and sound amazing,' explains Technomedia President and owner, John Miceli. 'The Team at Abercrombie & Fitch was interested in providing customers of the London Flagship with an audio experience that would reflect the very high quality of the Abercrombie & Fitch clothing brand.'
The store occupiesan historical building – with the consequence that the rooms are much larger and have higher ceilings than the other flagship locations. The previous system used powered components that were concealed in the top of custom millwork distributed throughout the store.
'The new system needed to use the same cabinetry in order not to impact the aesthetic of the store while at the same time providing an evenly distributed high-end stereo listening experience,' A&F A/V Systems Manager Anthony Liccardi explained. 'The challenge was finding a small powered speaker that would fit the confines of the cabinets while providing the sound quality Abercrombie required from the system retrofit.'
As a supporter of Powersoft amplifiers, the integrator was familiar with the Digimod amplifier modules: 'We realised that we could hard-wire the loudspeakers to the Digimod amplifier modules and create our own powered loudspeakers,' Miceli says.' It was the ideal solution.'
As a result, the upgraded system uses a custom configuration of Powersoft Digimod amplifier modules to power a distributed and networked sound system consisting of JBL AC15 and Martin Audio AQ8 loudspeakers.
Technomedia specified Digimod 500s and Digimod 1000s to power the full-range loudspeaker system. The two-channel 1000s delivers 500W/channel (4Ω) and 1kW into 8Ω ohms bridged. The 500s is the only Powersoft amplifier module with a single-channel output stage delivering 500W (4Ω) making it well suited to small professional applications or products that require reliability and high audio quality.
'Building the boxes for the modules ended up being very beneficial,' Liccardi, explains. 'We used grommet connectors and hardwired the loudspeakers to the amplifier boxes. Each module powered one or two loudspeakers depending upon the location. It worked out extremely well.'
Upon completion the London Abercrombie & Fitch flagship store boasted a new sound system consisting of 60 JBL AC15 and 20 Martin AQ8 full-range loudspeakers powered by 25 Digimod 500s and 25 Digimod 1000s amplifier modules with the low frequency sound provided by 30 Meyer Sound self-powered subwoofers.
'The store management was looking for an audio solution that would upgrade the quality of the customers shopping experience,' Liccardi concludes. 'The new system at the London store really hits the mark by providing even consistent coverage along with the highest audio quality obtainable.'
More: www.gotechnomedia.com
More: www.powersoft-audio.com
More: www.martin-audio.com
More: www.jblpro.com