JBL HiQnet Performance Manager sound reinforcement system design software is now available to users as a public beta version – having previously been available to a closed group of 60 worldwide beta testers.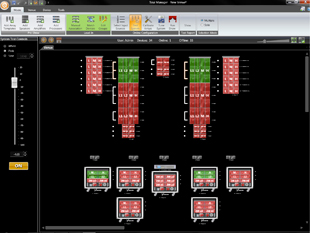 HiQnet Performance Manager facilitates the design of touring and live performance venue sound reinforcement systems. Created for touring and theatrical sound engineering, Performance Manager is an application-specific iteration of the HiQnet System Architect configuration and control software application for professional-grade audio system integration.
'JBL HiQnet Performance Manager is a powerful tool that makes the design, setup and tuning of a JBL VerTec loudspeaker system a lot faster and more efficient,' says Adam Holladay, Market Manager for the Harman System Development and Integration Group.
'The response from our beta testers has been extremely positive,' he reports. 'In venue after venue, JBL VerTec system engineers have been able to achieve consistently higher levels of performance than before. They note that they are also able to set up a system more quickly, saving time and money. Now that we are making it available in a public beta version, many more users will have the opportunity to take advantage of the benefits of Performance Manager as a free download.'
The beta version is functional, except that users will need a license key in order to go online and access the online operate modes of certain system devices. The full version of JBL HiQnet Performance Manager will be available in early 2012 at a suggested retail price of US$399.