One of the most popular chains in Latvia and the Baltic states, Gan Bei has restaurants across the region that rely on their sound systems as well as their cuisine for their appeal.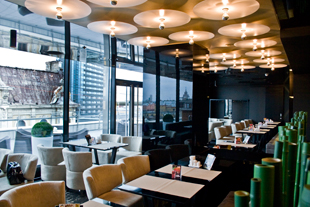 When fitting out a flamboyant Asian restaurant Gan Bei City, located in the shopping centre Galleria Riga in the Latvian capital of Riga, the restaurant owners were keen to maintian their reputation for quality with a classy interior that had echoes of the Orient, but was also sleek and ultra-modern. And an audio set-up to fit.
Restaurant owner Oleg Arup called in audio specialists Unique to provide a system that wouldn't interfere with the design aesthetic of the venue but would offer the quality and flexibility they needed.
'The new restaurant has a total area of 300-sq-m and has a high-class interior, so the owners were keen not to spoil that with the intrusions of an installed audio system,' says Unique CEO, Rihards Rubenis. 'In essence, they wanted the loudspeakers to be virtually invisible, but at the same time deliver high quality and high SPL; as they bring in guest DJs to play music at the weekends for more of a vibrant, party atmosphere.'
Rubenis found the solution in Tannoy's dedicated in-ceiling CVS Series, a range developed specifically for installation projects where performance, reliability and budget are equally relevant. For consistent coverage in the hall, Rubenis decided on eight CVS 8 loudspeakers supplemented by four CMS 801sub devices to provide the additional low-end presence required of a flexible system. These are controlled by an APart PM7400 MkII preamplifier, Champ4 amplifiers and a PC1000R CD/SD card player.
'Tannoy CVS 8 speakers together with CMS SUB is the perfect combination,' says Rubenis. 'The sound is clear, powerful and with a reserve on power. CVS gives the client everything they need in terms of audio quality, but at the same time doesn't interfere with the look and feel of the restaurant. The fact that you get such great quality for such a great price is a real bonus too.'
Gan Bei City also has a terrace, and for this Rubenis chose Tannoy's DVS range. Thanks to the point-source driver design, DVS can be mounted vertically or horizontally without compromising the dispersion and coverage control, offering complete versatility where positioning is concerned. 'For the outdoor area (80m2), we used four DVS 6 speakers, which sound fantastic,' Rubenis says. 'The versatility of the speakers meant we were able to offer complete coverage, which means its sounds great no matter where you are sitting.
'With economic concerns still high on the agenda, price has a big role to play when a costumer chooses the sound system. However, CVS Series has a perfect combination of both price and performance. Also, CVS are suitable for use in 100V distributed systems, which makes them even better when we are talking about large areas like shops, malls and office halls.'
While this is just the first restaurant in the Gan Bei chain that has been fitted with Tannoy CVS Series, the owners have already stated their intention to use CVS series for their next restaurant.
More: www.unique.lv
More: www.tannoy.com