Once the dingy, smoky exclusive province of men, US sports bars have evolved into bright and family orientated places with casual but generally upscale décor, full lunch and dinner menus, scores of imported beers on tap, and multi-room, high-end audio and video systems.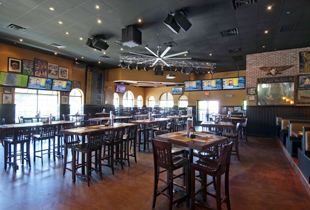 PJ Whelihan's is a prime example of today's sports bar with all the right elements. Introduced in 1983, the chain now covers 16 locations in the Philadelphia and southern New Jersey region, including the most recent addition in suburban Downingtown, PA. It's a multi-use venue that can handle not just day-to-day sporting broadcasts but parties and live events as well. 'They've got a stage set up at one end of the main room for live performances and DJs,' says Bob Schermerhorn of Entertainment Service Group (ESG), the company behind the A/V system design and installation.
The space is served by a distributed system using 24 Community Veris 28 dual 8-inch two way loudspeakers. Low-frequency reinforcement is handled by eight Veris 212S subwoofers. QSC PLX-series amps power the system, with BSS London processing. More than 40 LG plasma displays ranging from 37-inch to 60-inch ring the main room, running through a pair of Extron MAV-Plus HD matrix switchers.
Other than a rather compressed schedule of only five weeks from start to completion, Schermerhorn says the installation of the systems went smoothly: 'The room is a bit of an acoustical challenge,' he admist. 'The main bar is located in the centre of the room, and the ceiling surrounding it deflects the sound in a number of directions. Thankfully, the Veris speakers offer a nice tight focused pattern, which helps a lot in controlling the coverage.'
More: www.communitypro.com