MSL Professional is now the exclusive distributor of Sonoma Wire Works GuitarJack Model 2 audio iOS interface in the UK and Ireland.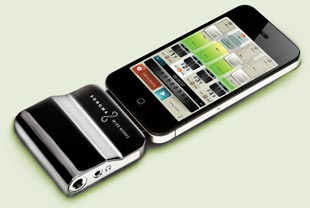 Able to connects a wide range of instruments, microphones and other audio hardware to the iPhone, iPad and iPod touch, the interface uses premium components that include the PSoC3 programmable system-on chip from Cypress Semiconductor. Its rugged aluminium shell has a built-in dock connector that can be used without removing most phone cases.
The interface includes quarter-inch instrument and eigth-inch stereo mic/line inputs with 60dB of software controllable input gain and a 12dB pad for 72dB of adjustment. The quarter-inch input also has a Hi-Z option. When used with Sonoma Wire Works' FourTrack and StudioTrack apps, both inputs can be simultaneously used for instrument and voice recording. A further feature is the unit's dedicated eigth-inch stereo analogue line/headphone output, with increased drive for headphones, which avoids the need to rely on the iPhone or iPod's own output.
In addition to its use with the manufacturer's own software, GuitarJack is also compatible with a wide range of third-party apps, like Apple's GarageBand.
'With such an outstanding feature set, we're confident that Sonoma Wire Works has a great future and GuitarJack will become a real must-have during 2012,' says MSL Pro's Simon Lowther. 'We look forward to working closely with both Sonoma and our dealer network to ensure its success."
'MSL Professional's commitment to representing high-quality audio gear makes it an ideal fit for offering GuitarJack to its dealer network,' says Sonoma Wire Works President, Doug Wright. 'We are pleased to welcome MSL Professional as an exclusive distributor of Sonoma products in the UK and Ireland."
More: www.mslprofessional.co.uk
More: www.sonomawireworks.com