Set in the creative heart of London, the Soho Theatre is a showcase for drama, comedy and cabaret and encourages the efforts of new and developing writers. An upgrade to its audio facilities has now seen a Soundcraft Vi1 digital live sound console on the bill –making life easier for performers as well as audio staff.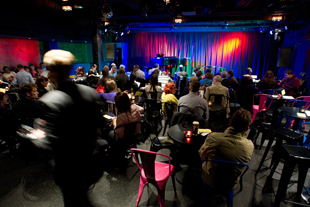 The theatre has hosted British and international performers including Demetri Martin, John Leguizamo, Eugene Mirman, Stuart Silver and Richard Herring, and continues to offer wide range of productions.
'We have been using the Soundcraft Vi1 for a couple of months now and personally I could not be more satisfied with it,' says Paolo Melis, Soho Theatre technician. 'The large number of inputs and outputs on the desk has made it much easier to mix big projects. The Vistonics II touchscreen interface is straightforward and simple to use, which is a big advantage when mixing a show and you need to have everything at hand in an instant.'
The Vi1 offers features that are specifically designed for live sound use: 'As a theatre technician, the Snapshot feature that lets you quickly create cue lists is the one I enjoy the most,' Melis notes. 'It allows you to take instant 'snapshots' of all the console settings and compile cue lists for later recall by pressing a single button. This one function alone is a tremendous time saver.
'We are also pleased by the high quality of the console's built-in Lexicon effects. They are much better than the effects that were available in our previous desk,' he adds.
The Vi1 allows Melis to deal with live bands, and does double duty as both a front of house and a monitor console. 'It also works wonderfully in theatre sound design projects, where you need to be able to re-create a surround sound sonic environment, or simply route multiple outputs to speakers that are placed in various locations throughout a set,' Melis says. 'The available matrix and aux buses make that easy to achieve.'
'The Vi1 has made operating our audio system a lot easier for us,' Melis closes. 'The performers can hear themselves better and perhaps most importantly it gives us the ability to deliver exceptional sound to the audience, night after night.'
More: www.sohotheatre.com
More: www.soundcraft.com