A spectacular ten-storey sandstone and glass tower located in the old dockside area, the new Antwerp Museum aan de Strom is an impressive building. The museum's tower is composed by ten stacked stone 'boxes', each rotated by 90° to form a giant spiral. Inside, it offers a vertical gallery around a spiral staircase where exhibitions are interspersed with undulated glass walls revealing views of the city.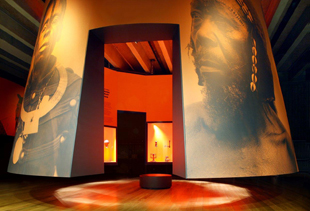 In contrast to its external rusty industrial look, the museum offers a revolutionary multimedia experience, throughout four different themes divided across five floors. 'The idea was to create a Wake Up room on every floor – a room where the visitor can feel, hear and see the central theme of that particular floor,' explains Stephanie Simons, production leader for the museum.
Belgian A/V systems integrator A/V Studio was in charge of the design and installation of the cutting-edge arrangement. They in turn commissioned professional A/V distributor FACE to supply the equipment.
Each floor has been divided into different spaces that guide visitors through a journey supported by multimedia aids consisting of concealed soundscapes, huge LCDs and touchscreen PCs. During their journey, the sound system 'walks' visitors up to the central theme of each floor. On the 4th floor with the central theme 'Power', a sound system driven by Powersoft M Series amplifiers helps create of the atmosphere.
The walk continues all the way up to the 7th floor where sound effects come to life to create a superb experience with a Life & Death! theme. Here more Powersoft K Series amplifiers with built-in DSP drive the powerful yet controlled surround sound that fills the 'wake up' room.
Due to the complexity of the system, and with each theme having different audio requirements, A/V Studio and FACE needed flexible, reliable products to make this experimental installation happen.
'Powersoft proved to be up to the challenging task. The wide range of amplifiers was perfect for all system requirements,' says Steven Kemland, Sales Manager at FACE. 'Moreover, Powersoft environmental-friendly amps will help the client reducing operational costs on both consumption and external cooling.'
More: www.powersoft-audio.com