Following the success of Hed Kandi's inaugural bar in Clapham earlier this year, installation company MSL has again chosen a Martin Audio loudspeaker system for the Hed Kandi Bar flagship bar in Brighton (UK), which opened recently.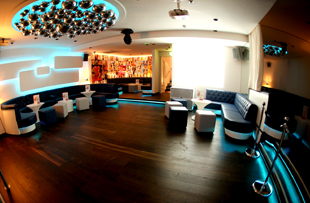 The former Luminar-owned Tru Nightclub has been completely overhauled and redesigned (by Julian Taylor Associates), with MSL entrusted with the full audio visual installation – including a high-impact Martin Audio system, networked across two floors.
Part of the Ministry of Sound Group of companies, Hed Kandi is a globally recognised brand with club events staged regularly all over the world, and a huge music catalogue over many dance music genres. It was the Ministry's then technical manager, Alex Barrand, who recommended MSL and Martin Audio on the strength of its performance at the premier London dance club, where it is used exclusively.
MSL project managers Darrel Olivier and Bradley Watson teamed up to produce a comprehensive solution for the main bar area, seated booths, VIP areas and basement Shooter Bar, while Olivier produced a lighting and video solution, utilising a wide range of LED static and moving fixtures, to further enhance the public spaces.
Once the integrators realised the priority that the operators wished to give to the sound reinforcement, 15 wall-mounted Martin Audio AQ8 (8-inch LF/1-inch HF) full-range enclosures are used to provide punchy coverage throughout the ground floor space, while the low frequency extension is delivered using four floor-standing Martin Audio AQ212 (2 x 12-inch) and a single AQ210 (2 x 10-inch) sub bass enclosures.
The reception spaces, outside facade and the Shooter Bar have all been provided for, with four Martin Audio ultra-compact C4.8T ceiling enclosures, while the next phase will see the addition of an AQ112 sub (1 x 12-inch) — plus separate DJ input – downstairs in the basement.
The backbone of the audio system is managed by a BSS Soundweb London Blu-100, with a pair of Blu-BOB expansion extenders providing the additional outputs required for the multi zone site (along with remote Blu-3 and Blu-8 control panels).
DJs upstairs are equipped with a top-specification booth which also includes a pair of Martin Audio Blackline F8+ (8-inch/1-inch) high-power enclosures for monitoring.
'Martin Audio was recommended because it's a proven product, with longevity and reliability, and they were happy to go down that route,' says Bradley Watson. 'Although it's not a nightclub it needs nightclub type levels — and they were very comfortable with the brand.'
MSL senior project manager Darrel Olivier, working with Julian Taylor Associates meanwhile developed a comprehensive architectural and moving light solution while a Mitsubishi 4500 lumens DP projector and Kramer Electronics transmission equipment complete the lighting and video solution, allowing the operators to project a wide variety of media in full HD.
The complete system, from the architectural LED to the ceiling mounted moving heads, are all programmed and managed by a ShowCAD Artist 512 control system, with a 19-inch touchscreen display monitor and an Edirol Midi keyboard for instant scene and sequence recall.
With world famous DJs playing through house system, Hed Kandi Operations Director, Phil Faversham, expects this to quickly become Brighton's hottest party destination.
More: www.martin-audio.com
More: www.hedkandi.com/bars
More: www.middlesexsound.co.uk