Among the first bands to come to prominence through their use of social media, the Arctic Monkeys have spent much of 2011 touring their fourth studio album, Suck It and See.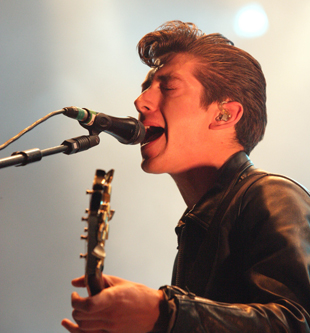 Front of house engineer Matthew Kettle is a long-term Sennheiser user. Working with the Arctic Monkeys since 2009, he has been happy to continue the relationship: 'I've been using Sennheiser microphones for as long as I can remember,' he says. 'The band were already using the evolution series vocal mics when I started. I had been using them with numerous other bands, with great results, and so there was no question of us changing.'
Currently, lead singer Alex Turner uses an e935 dynamic mic with cardioid pattern, while the backing vocals of bass player Nick O'Malley and drummer Matt Helders come courtesy of an e945 and 904 respectively.
'We use the e945 for Nick to try and cut down on spill from the (very loud) amps on stage,' Kettle says. 'The 904 is ideal for Matt because we can squeeze it into a tight space and keep it out of his way.'
Monitors for the band on the current tour comprise eight stereo mixes via Sennheiser G3 in-ear monitors. 'We've used Sennheiser IEMs ever since we started using wireless in ears, so it made sense to move to the G3s this time out,' says monitor engineer Will Doyle. 'They sound great and the easy set-up function really is easy! I scan every day using a G3 pack and an old Icom scanner just for my own paranoid peace of mind, but 99.9 per cent of the time I agree with the pack scan results. Setting the frequencies then only takes a few minutes – all with no scrolling through frequencies one by one or using intermodulation tables. Most importantly there are never any dropouts or interference.'
When the band plays distant corners of the planet, Sennheiser systems are available locally: 'When we fly to gigs to odd parts of the world, you can't always find the most up to date IEM systems,' Doyle continues. 'However, you can usually find a G2 system wherever you go. While they aren't quite as easy to use as the G3s, there's a certain amount of backward compatibility in terms of gain structure and EQ. This means I can take my desk file and tweak it, rather than having start from scratch, which I would have to if I was jumping between brands.'
'Sennheiser has always been great at supporting its products,' Kettle concludes. 'If there's ever a problem, it's great to know that I can give Phil Cummings and the team a call and it will be resolved immediately. We've had no problems at all with the Monkeys' mics, so we've been extremely happy. We've had a very busy schedule on this tour, flying all over the globe. The mics are getting well used and abused... and are all still going strong.'
More: www.sennheiser.co.uk