Media, broadcast and archive specialist TransMedia Dynamics (TMD) has temed with Ireland systems design and integration company Eurotek on a major contract with Irish national broadcaster RTÉ.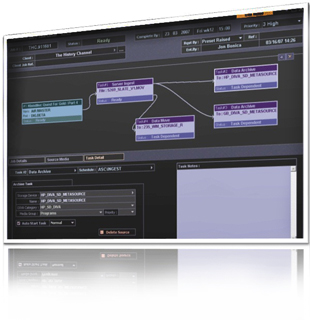 The project will see TMD's Mediaflex application suite is to provide content management, preparation and workflow platform for FAST, the File Acquisition and Server Technology project which RTÉ is implementing in its Dublin headquarters.
The FAST project is designed to support current and future TV content preparation, production and postproduction in both SD and HD formats. As well as supporting modern, file-based workflows it will incorporate storage and access to ensure that all of RTÉ's assets continue to be available to a much larger user base.
'FAST is a hugely important project for RTÉ, allowing us to boost our workflows and operational efficiency by using the latest file-based technology and providing much greater visibility to many more users across the production cycle, particularly for acquired content,' says John Hunt, Director of Operations at RTÉ's TV Division. 'We chose TMD and Eurotek as our partners for this project not just because Mediaflex is a widely respected asset management platform but because they really understand the technical, creative and commercial pressures on a broadcaster and can develop the infrastructures and workflows that will help us move forward. Our experience working with Eurotek on other major infrastructural projects has been good: they understand our workflows and operation, which helps with a smooth implementation.'
TMD and Eurotek worked closely on the design of the solution, the installation and rollout of which is planned to take a year. Eurotek will design, supply and implement the underlying infrastructure including the storage platforms, the network and broadcast equipment. TMD will be the prime contractor, and alongside providing the core Mediaflex platform it will deliver the overall systems design, workflow consultancy, systems integration and project management.
'Mediaflex workflows and management have been proven by broadcasters around the world, and RTÉ recognised that this in-depth experience would ensure we deliver against their specific requirements,' says Tony Taylor, Chairman and CEO of TMD.
'We are also pleased to be working closely with Eurotek on this high profile project,' he continued. 'Eurotek is one of the most dynamic and skilful distributors and systems integrators anywhere in Europe, with a great track record in delivering this sort of file-based infrastructure. As a partnership we are confidently looking forward to tackling the challenging timescales of the RTÉ FAST project.'